You will surely need the best stock trading app in the Philippines if you you're always on the go. Whether you are new or a veteran stock trader in PSEi (Philippine Stock Exchange Index), you will need a handy tool for monitoring stocks. It won't be much of a problem if you are going long in trading (a.k.a. Investors). But if you are a day-trader or a scalper, you will need a handy best stock trading app to monitor stocks price actions. A couple of good apps for stock trading are available out there but so far this one I am using is one of the reliable tools. This app is called Tsupetot and I would like to share with you my short review about this app.
If you are just starting, it will be effective if you have a trading journal to record your trades. We've covered a topic about how you can plan your trade using a trading journal spreadsheet before. You can also go back and read it.
Let us say you now have a trading setup and comes the next trading day. You can now open the Tsupetot stock trading app. And here are some of the important noticeable features you will see and experience:
List of Tsupetot Stock Trading App Features
Sortable Page by %Change, Volume, and Price
Last 3 candle view
View all stocks chart profile in single page
Market Status
Stocks Historical Data with indicator
PSEi and Sectors Historical Data with indicator
Create Porfolio
Create Cheatlist/Watchlist
Profit/Loss Calculator
Profit Chart Projection
Support and Resistance
Fibonacci Manual and Auto Setup
Disclosure Alerts
Price Alerts
Comprehensive Financial Charts
Stock Jockey
ChatRoom
*NOTE: The list of features above can change overtime. Currently these are the features included in Tsupetot V1.9.6 (Android) and Tsupetot Version 2.5.6 (iOS).
Personal Review of Tsupetot Trading App
Now that we've given you the main features of Tsupetot stock trading app, let's now try to explore it. We have installed Tsupetot in an Android smartphone – ASUS Zenfone 3 ZE552KL. In this article, we will only cover probably the best and commonly used features of Tsupetot in our trading habits. You can explore it more and utilize it depending on your strategies.
Tsupetot's Main Screen – Stock code listing
At the first glance, it is a nifty and handy app. The first screen you will see is like a table showing all of the PSE registered stock codes with their most recent (real-time) information – i.e. thumbnail of price line graph, current stock price, volume, etc. And by default, the stocks are sorted by price Change showing the highest to lowest. From this screen, you will see immediately the possible target stock where you may want to execute your trade – especially if you are a scalper or day trader. On the same screen, you will see on a high-level the last 3 candles. And if you scroll sideways (right to left), it will give you some more information or indicators. These indicators will give you the common confluence to support your convictions whether you want to trade your target stock. The table will also give you a recommendation – BUY, HOLD, or SELL.
Once You Tap a Stock Code
Once you tap a certain stock code, you will see a new screen which is more interesting. You will see more information about the stock you've picked. Information such as the current Volume, Value, Previous day's price, 52W high and low, price change from yesterday's closing,  today's Opening, High, Low, Price action graph, MACD, RSI, MFI, etc. The example screenshot below will show BDO's current information as of writing this.
By default, the price candle graph is using 2 indicators – SMA20 and EMA13. Notice that these 2 indicators are good enough to see where the price will go. For me, if EMA13 will cross above SMA20 then that is a signal now of trend changing from bearish to bullish. But of course you need to consider other indicators such as MA20 > MA50 > MA100. The MA20 > MA50 > MA100 is also known as Alignment Of The Stars popularized by Zee Freaks here in the Philippines. Well, we won't discuss those lines here for now but it is a very good combination.
Actually, now that we're discussing about the Moving average lines, you can add and use your own MA indicators. You can do that by just tapping on the gear-like icon near the SMA20 and EMA13. From there, you can define your own settings and make it as your default indicators.
Three of our most favorites on this screen (aside from the indicators) are Volume, Intraday, and Jockey. Volume + Trend is your friend especially if you are a trader. The more participants then you can expect a possible good price action. Intraday will show you the ASKs vs BIDs which will indicate how active the stock. Then JOCKEY, we want to trade where the big players or institutions are buying – of course. BUT beware of the high risk! These big institutions and even retailers might be playing a pump and dump scam/strategy. You have to closely monitor your trade and follow your Risk Management plan, Trail Stops, and Cut loss plans. Do not be "too" greedy or you may fall into their trap.
Aside from these, you can check the automatic Fibonacci plot and current S/R (Support and Resistance) lines. And not only that, you can tap on t/a so that you can see the latest Technical Analysis summary of a certain stock.
Make your own Watchlist
Another favorite feature of ours! After you have studied the fundamentals and technical of your target stock, you can add it in your WatchList. You can plan and add your entry, cut loss and exit plans using the app as well.  Here's a screenshot of the made up WatchList we did.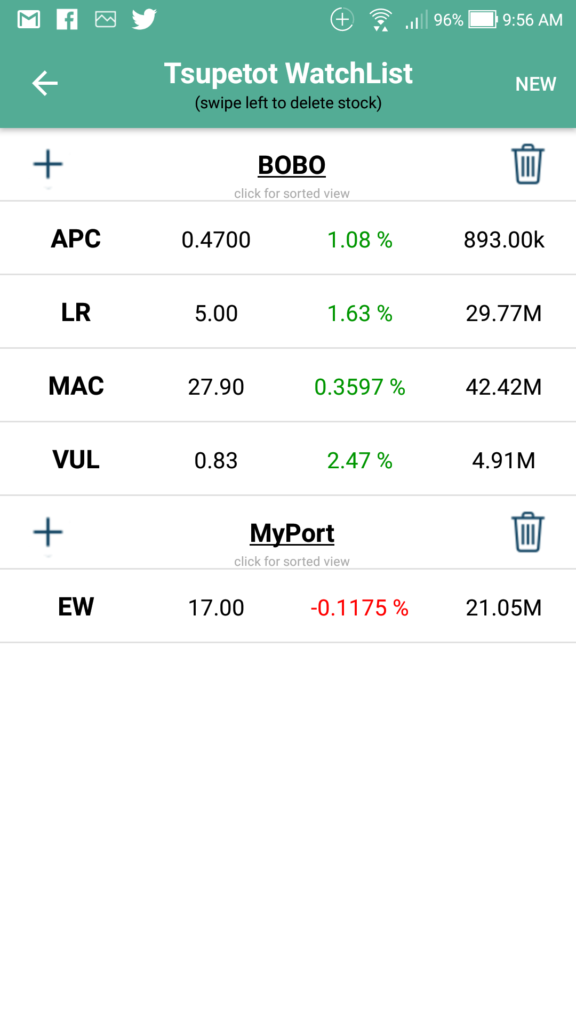 Don't mind the word "BOBO", it simply stands for Buy on Break Out. 🙂
Virtual Trading is also available
If you are starting with stock trading and you want to test your strategy then we suggest that you try first a paperless virtual stock trading. Tsupetot stock trading app also offers this feature. You can simulate buying a stock and see if your strategy will work. It is better to start with this method so that you can study further if your trading plan works. If not, enhance and improve your strategy – see what went wrong and work for a better strategy.
Not all traders are the same. We are saying this because with virtual trading, there's only little (if none) emotions since you are using virtual money. Emotion is one of the known weakness of any trader. It is hard to control this and it takes a lot of courage and discipline – especially when executing cut loss. So, it is up to you if you want to use this feature (but we do recommend it) before you do actual trading with real money.
There's just a little note when using Tsupetot Virtual trading. You can only execute your trades when the stock market is open.
The Portfolio
You can add all the stocks you are holding from your real brokers like COL Financial or from any brokers you are using. We find this feature pretty much convenient because we don't need to log-in anymore from our broker's website/platform just to check the status of the stocks we are holding. From Tsupetot's Portfolio, it is like you will have an instant view of your stocks status. You will see if you are gaining or losing.
Notification feature
Aside from getting PSE's latest reports, i.e. Financial reports, Announcements, etc. You will see here also your set Entry, Exit, and Cutloss. If any announcements does not automatically alert, you can go to Notif screen to see the latest information – especially on your favorite stock!
Price Alerts is one of the features we fully utilize.
The Community via Chatroom
Although we don't see users here so active and engaged, this is still a good feature. Traders or Investors can utilize this feature to exchange ideas and thoughts about stock trading.
Our Verdict
Overall, it is probably safe to say that Tsupetot is one of the best stock trading app here in the Philippines. Wouldn't you agree?
It's a handy nifty app that you can use whenever or where ever you are. The available features is sufficient enough for traders and investors to monitor their stocks. And they can even use the app when improving their trading setups!
It may not have all the indicators other traders uses such as ALMA, Aaron, Stochastic, etc. But we don't see this as a stopping gap that will make the app any less. For us, simplicity is the best! Too much indicators may disrupt your judgement. But that is just us! Anyways, we know that the developer, Alvin Calma, won't stop from here. There are still more room for improvement and who knows? We might see more changes in the future since stock trading keeps on evolving.
If you are interested to try Tsupetot app, you can check it on:
Tsupetot Stock Trading App User Guide Videos
Here are 10 user guide videos from Alvin Calma's YouTube channel. It will show you the basic use of his app Tsupetot and further details about his stock trading app.