The company xFyro, where the founders are all music lovers, came up with their latest waterproof wireless earbuds called ARIA. After their success with xFyro xS2, they've moved into the next level creating the "next big thing" in music technology. The xFyro ARIA waterproof wireless earbuds is by far the best if compared to its competitors. It surpasses the capabilities and specifications of the leading and best wireless earbuds in the industry today. With xFyro's ARIA, it have exceeded what others like Apple Airpods, Jabra, Jaybird and Bose can offer. You can check the comparison table below to see for yourself what xFyro Aria can offer.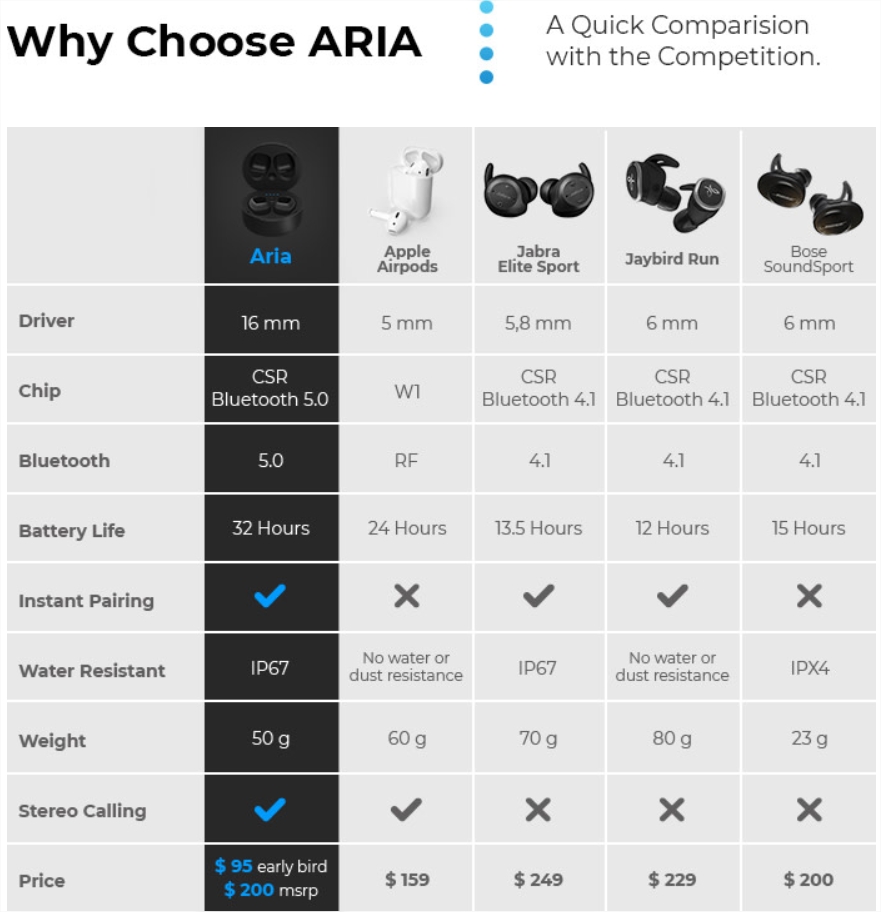 xFyro ARIA Waterproof Wireless Earbuds Design Specification Highlights
The xFyro ARIA is designed by the finest award winning engineers in the field of audio. The company invested with people with such special skills to bring the next generation audio technology. This is to ensure that people who will use their product will enjoy listening to their favorite music playlist. But don't be mistaken, ARIA is not only good for music lovers. The versatility of ARIA can go far than just listening to your playlist. Here's what you will get if you get yourself a xFyro ARIA.
ARIA is Waterproof and Dustproof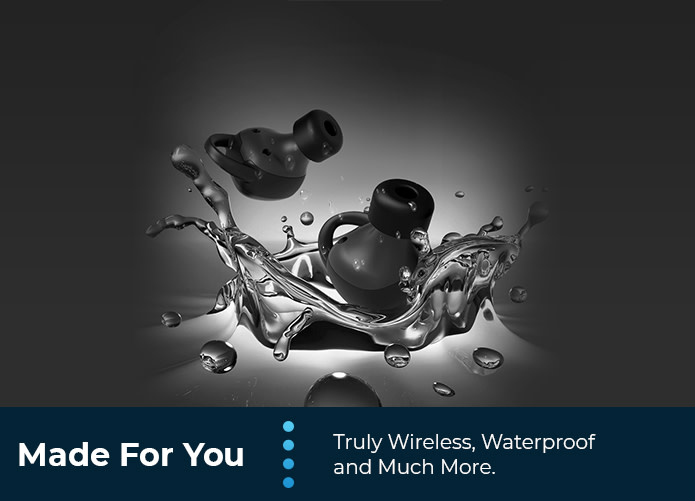 xFyro ARIA is IP67 certified which means that the device can protect itself from harmful dust and you can immerse it in the water. IP is a prefix name set by International Electrotechnical Commission (IEC). It is followed by two numbers that tells how the electronic device' protection against solid (first number) and moisture (second number).
Having said, you can enjoy wearing xFyro ARIA whether you're indoor and outdoor. You don't have to worry about it getting dirt or wet because it can protect itself. xFyro ARIA is 100% waterproof and dustproof. You can even wear it while you swim or taking a shower.
xFyro ARIA Sports Bluetooth 5 Technology
So, why would you care if this waterproof wireless earbuds is using Bluetooth 5 technology? Bluetooth 5 was initially released back in 2016 with three significant benefits compared to its predecessors – range, speed, and bandwidth.
ARIA is truly wireless. You can now untangle yourself from using the old messy cords. The most common problems of having wired headphones is the messy and tangled cords. Some cases are if the cords are accidentally pulled. It may loosen the connectivity to your earphones – worst is if the connectivity breaks. So why struggle?
With Bluetooth 5, you will be ensured with seamless and reliable connectivity. You don't have to worry about lagging data transfer or poor audio output.
Also, because of the latest Bluetooth version that ARIA sports, you can ensure that your data transfer is secured.
But to be fair, I still love wired headphones like my Sony MDR-XB450AP Extra Bass. Although I admit that sometimes it is not easy to manage it. Especially with safekeeping and tangled wires.
Spoil Yourself with xFyro ARIA's Battery Juice Life
If you are one of those active peolpe who can't live without music the whole day, then you will definitely enjoy ARIA's battery life. xFyro ARIA can last for 8 hours of play time from the initial charging. But it does not stop there because you will have an additional 24 hours from its handy charging case. As a whole, you will have three times or 32 hours full charged waterproof wireless earbuds.
No Need To Manually Switch Bluetooth with ARIA's Auto-Pairing
Most wireless earphones, well, you need to manually pair it before you can actually wear and use it. But with ARIA's auto-pairing, it's really amazing. You only have to pair it once manually to register the device to your smartphone. The next time you pair it to ARIA will be automatic.
And that's not only what amazed us. When you place back xFyro ARIA to the charging case, it will automatically disconnect pairing to your device and turn-off. You will save more power on your earbuds and smartphone.
Love the Ergonomic Design of xFyro ARIA
Did you know that the company have spent quite some time just to make sure that their waterproof wireless earbuds can fit to all types of ears? They've collected data from a thousand of ears across all 6 continents. Studied them and designed a perfect fit earbuds. You will get access to superior sound and comfort.
It's not only the earbuds you'll love. The charging case is also amazing with its magnetic secure-fit technology. This will make sure that your earbuds will never be misplaced or falls out when you put them back.
Let's Checkout ARIA's Controls
Since we're talking about a waterproof wireless earbuds, then it is safe to say that xFyro ARIA is hands-free! But what makes ARIA different from other hands-free earphones?
If you are into Virtual Assistant, then you can get access to Google Assistant (Android) or Siri (Apple iOS). You can talk to these app seamlessly without having to take out your phone from your pockets or bag.
You can also control listening to your music with ARIA's touch controls. And one of the best features of this waterproof wireless earbuds is the noise cancellation technology. You will get the best sound from your playlist like Spotify, Apple iTunes, Google Play Music, and many more. You no longer have to adjust to high volume because the unnecessary ambient noise is reduced.
Stereo Calling is the next big thing with xFyro ARIA which beats Jabra, Bose, and other earbuds. You can now take calls and listen through both earbuds. I bet this will be even effective if you are doing WiFi calling.


Final Thoughts for xFyro ARIA
So in summary, here's the overview specifications of xFyro ARIA.
Just looking on the specs and comparison table above, I don't think you will disagree with me that xFyro ARIA is one of the best! We're sure that we will see more innovations from the company in giving us, consumers, the best tools!
We are excited and patiently waiting to get our own xFyro ARIA waterproof wireless earbuds to be shipped. And as soon as we have them, we will give you a detailed review. For now, if you are interested to know more about this amazing earbuds, you can visit the official page of xFyro ARIA. And you can watch the video below, to see a sneak preview of this amazing earbuds.
xFyro ARIA - The Most Advanced Wireless Waterproof Earbuds