Who here has already thought of what they will be doing at the age of 80? How about developing an iOS app? Yes, we're talking about an iPhone application developer. While we are all busy trying to survive pass that age, one woman from Japan found her passion just in time, to make a statement that no age can hinder one's passion for coding and there is no limit to achieving your purpose in this world.
Meet 82-year-old, developing an iOS app, Masako Wakamiya, the oldest attendee of Apples' Worldwide Developers Conference last June.
Worth reading: Best Call Recorder Gadget for iPhone: Supports All Voice Calls on iOS
Who is Masako Wakamiya?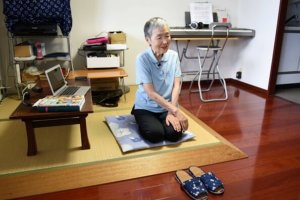 Masako Wakamiya learned to use the computer when she was already 60 years old but her determination to learn and make her contribution to the world pushed her to go beyond her limits – now, she's making apps for the iPhone. Before being an app development junkie, Masako Wakamiya has served 43 years of her life in one of the most prominent banks in Japan.
Aside from app development, Masako Wakamiya maintains a personal blog, where she publishes photos and videos of her travels and life missions. Her blog is in Japanese but can be translated in English. Aside from crafting iOS applications, she also fancies Microsoft Excel and uses it to make art.
To know more about her, here is her TEDx talk which focuses on active aging in the digital world:

Now is the time to get your own wings | Masako Wakamiya | TEDxTokyo
Hinadan – Japan's Traditional Dolls App Game
The vibrant Japanese app developer launched her very first mobile application in Apple's WWDC last June. She developed an app for iOS that teaches people the appropriate way of staging traditional doll displays for festival. This was in honor of the age-old tradition of Hinamatsuri.
Wakamiya's iOS app, Hinadan, was named from the synergy of the words hina (which means doll) and dan (which means tier). The goal of the game is for players to arrange the twelve dolls in their corresponding positions on a standard platform with four tiers. The game ends when the player is able to place the dolls in their proper positions.
You can access her iOS app, Hinadan, by downloading it from the App Store using this link.
Her story is truly inspiring, right? Now, it makes it a bit easier to imagine what we could be doing by the age of 80. Share us your thoughts below!