For someone like me who have traveled to China, it wasn't easy to use the Internet. Simply because of the China's Great Firewall. Yes, they have this firewall which blocks most popular websites in the Internet. Such as Google products like GMAIL, Google search, and even social media websites like Facebook are totally blocked if you try access them directly. After I went back to my hometown, Philippines, I did my own research on how I can bypass China's Great Firewall when I go back there. And so I installed a couple of VPN applications, both on my laptop and mobile phones. These VPN apps which I also mentioned in my previous post on how to bypass Internet censorship using circumvention tools. And one of my favorite circumvention tools or VPN app was (and still is) the VyprVPN. I am confident to say that it was the most reliable, stable and fastest VPN for China foreigners like me who don't want to disconnect to the "outside world" – if you know what I mean.
And recent reports, VyprVPN was ranked as the fastest VPN for China by Greatfire.org. I wasn't surprised but I am happy that the app was now recognized among other competitive VPN apps there. And here's the report from Greatfire.org showing the speed performance of each known or popular VPN apps. The following VPN tested by Greatfire.org are:
VyprVPN
Astrill
VPNSecure
PureVPN
HideMyAss
Lantern
FreeBrowser
VPN Unlimited
XX-Net
E2HOST
Psiphon
Freegate
Tor
Ultrasurf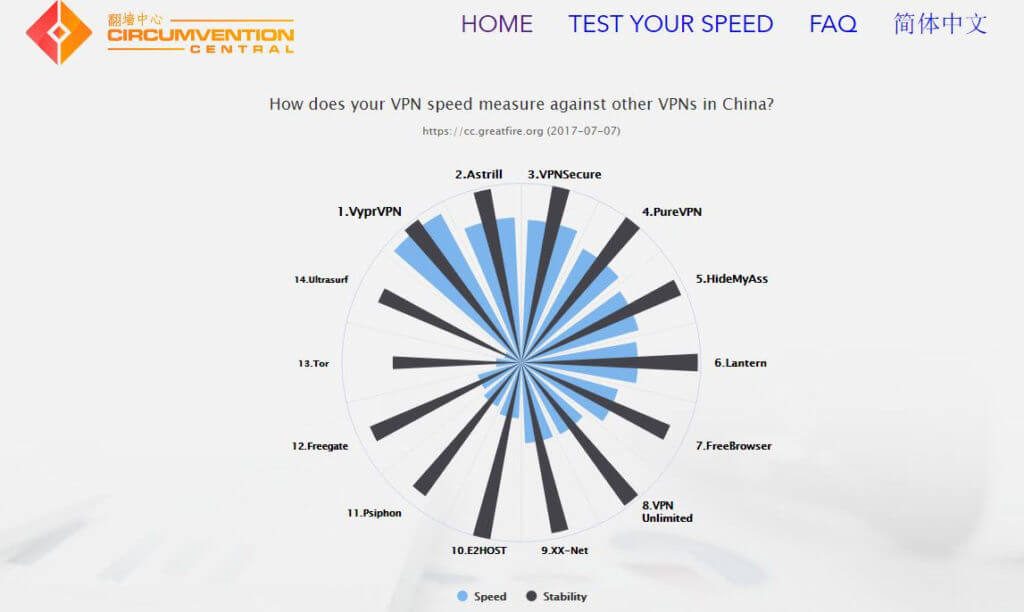 Based from the test, VyprVPN's speed reached 708 kbps with a 99% stability score. But next to it are not really far behind like Astrill with 608kbs and 99% stability score. Although VPNSecure and PureVPN were not the fastest VPN, they seem to score a perfect 100% in terms of stability.
What does GreatFire.org do?
GreatFire.org, as a non-profit organization monitors the status of websites censored by the Great Firewall of China. They help Internet users in China to circumvent the censorship and blockage of websites in the said country.
How does Greatfire.org measure the Speed with its circumvention tool?
The speed test aims to reflect real user experience. While a visitor to the site runs a test, in the background, their browser is downloading resources from the ten most popular websites in the world. According to Alexa, these sites are Google, Facebook, YouTube, Baidu, Amazon, Yahoo, Wikipedia, QQ, Twitter and Microsoft Live. The speed reported is simply the size of the file downloaded divided by the time taken to download it. Greatfire.org also verifies whether the downloaded resource is complete. If the contents returned are incorrect or if the download fails to complete within 40 seconds, they mark it as failed. This data is then used to calculate their other main indicator – stability.
How does Greatfire.org measure Stability with their circumvention tool?
According to Greatfire.org stability is typically not tested by other services at all. A healthy internet connection anywhere is supposed to deliver 100% stability, unless someone pulls the cable during the test. But using a circumvention tool in China is different. At any point, the connection can become unstable and/or go down completely. Individual requests may fail depending on the size of the request, the final destination and how they are proxied. Thus comparing service stability is just as important if not more important than comparing speed.
In Summary
In summary, if you are planning to travel in China then you should equip yourself with the best VPN for China. But one thing you should also know that when you are in China, they are very strict to the point where they monitor traffic and tries to seize and block all identified connection running in VPN. So you have to make sure that you have at least 2 or more VPNs installed on your devices to unblock the Great Firewall of China. Another And if you are using VyprVPN, make sure that you use the Chameleon Protocol configuration when connecting to the Internet.