Microsoft Windows 10 Virtual Desktop Manager was one on the major highlights when Microsoft launched Windows 10 on the 29th of July 2015. Another Windows 10 feature that I like was the way way to backup my files. It allows me to create custom Libraries to make my backup effective.
Of course there were different expectations and reactions from end-users about this new operating system back then. Microsoft problems, from minor to major, is something that is not new to the end-users. This is one of the reasons why Windows 10 was not initially well accepted by the end-consumers. But hey, love it or hate it, there's no turning back now. The only way to go is going forward since Microsoft will eventually cut-off support to old operating systems.
Windows virtual desktop manager is not a built-in software in the previous version of Windows like Windows 9, 8, 7, XP. And before Window 10, some users would search for an effective Windows virtual desktop manager. This is to provide them with multitasking work or organize their projects. They want to separate one thing from another. This is why they opt to go for external software like Windows SysInternals Tools or Desktops v2.0. There are even other third-party software or applications that serves as Windows virtual desktop manager. Some of these third-party software are Dexpot software and VirtuaWin. But the two applications I've mentioned were from Microsoft and they are still open to the public.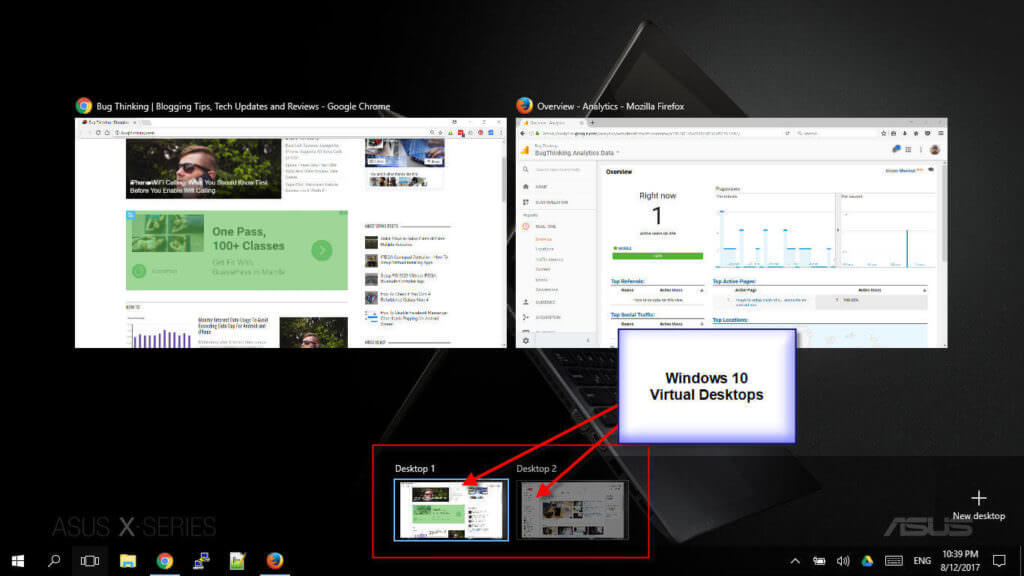 3 Steps To Create Multiple Desktops with Windows 10 Virtual Desktop Manager
Step 1: You can either press simultaneously Window + Tab keys or click on Task View icon from your Windows 10 taskbar. The Task View icon looks like 2 overlapping crossed rectangle in your taskbar;
Step 2: Once you've done Step 1, it will now invoke your Windows 10 Virtual Desktop Manager. Click the "+" sign from your lower right side of the Window to add new virtual desktop;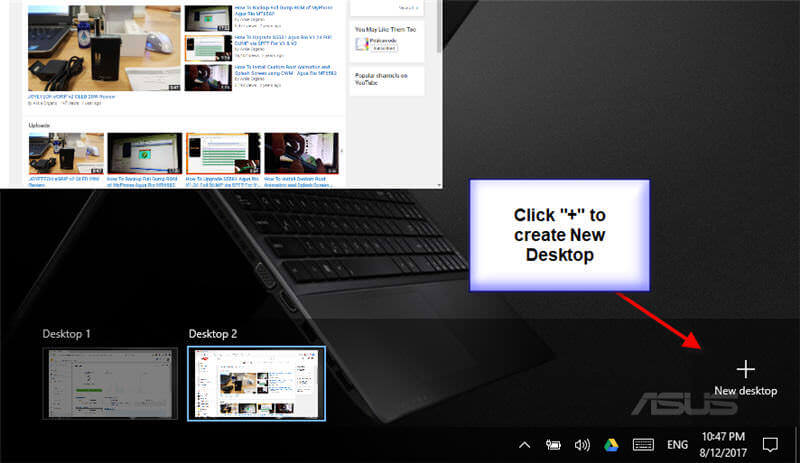 Step 3: If you no longer need the virtual desktop you have created, just do again Step 1 and click on the "X" mark of the desktop you want to close.
That's it! You now have a multiple Windows 10 virtual desktop. You can add more if you wish to make your workspace more organized.
Few Things You Understand When Working With Windows 10 Virtual Desktop
To switch between virtual desktops, either do the following:

Use the Windows Task View from your taskbar;
Press Windows + Tab keys;
Press Windows + CTRL + Left arrow key to switch to your left Virtual desktop;
Press Windows + CTRL + Right arrow key to switch to your right Virtual desktop;

Having a multiple Windows 10 Virtual Desktop does not mean it is like having 2 separate laptop or desktop machine. REMEMBER, you only have one machine which means you are consuming and sharing the same resources. By resources, it means you are utilizing the same CPU processor and memory. The more virtual desktop you create and the more applications or software you open will have a direct impact on your machine's performance;
Always remember the application or the things you are doing or using on each Virtual Desktop because you might forget to save your work. Your machine will not automatically do it for you.
For whatever reasons why you would like to use and utilize Windows 10 Virtual Desktop manager, still, it is one of the good tools in Windows. More importantly, you no longer have to download and install third-party application just to do the work.