If I may say so, moving data or files from one mobile phone to another has become easier with Smart Switch for Galaxy S7. Galaxy Series Smartphones are of premium qualities manufactured by Samsung. Those are rich in features with all latest updates. The technical specifications are also advanced in the case of Samsung Galaxy phones.
That is why a section of people use Galaxy devices to stay updated with the technology. Samsung Smart Switch Mobile app is already preloaded on Galaxy S7 or S8 devices and any Galaxy user can find the app from Settings > Cloud and Accounts > Smart Switch option in their smartphone.
Smart Switch for Galaxy S7 gives you the ultimate option to move your pictures, contacts, music, text messages and calendar to your new Galaxy device.
It is particularly helpful for moving the device settings from one Galaxy phone to another. Furthermore, Smart Switch for Galaxy S7 app helps a user to find his favourite Android apps and games on Google Play or can even suggest similar apps too.
Who can Transfer?
Samsung Smart Switch Mobile app is designed and developed in such a way that it can support all the leading platforms of smartphones available nowadays.
Android smartphone owners are the automatic choice for transferring their important documents into the new Galaxy devices; but iOS Users, BlackBerry users and Windows Mobile Phone owners are also having the luxury to switch.
Android Smartphone Users
People who are using Android 4.0 or higher version of the Operating system can transfer all their files from their old phone to the new Galaxy phone wirelessly without any hassle.
Galaxy devices are equipped with a feature named "Mobile AP" that allows the files to be transferred from the existing Android phone to the new Galaxy S7 or S8 smartphone.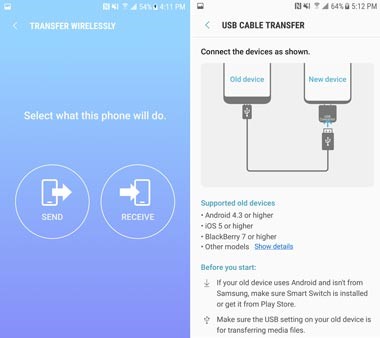 In the case of wired transfer, you need a USB Connector, a charger cable and Android version 4.3 or higher.
Windows Smartphone Users
Your Windows Mobile Operating System should be of Version 8.1 or 10 in order to transfer files wirelessly to Galaxy devices. Samsung Smart Switch Mobile app is equipped to transfer all important files from your existing Windows Mobile Phone to the new Galaxy S7 or S8 phone.
Files can be transferred from a Windows PC too if the Operating System is Windows XP, Windows 7, Windows 8 or Windows 10. The system should have at least Pentium 1.8 GHz or more CPU although Intel Core i5 3.0 GHz is recommended.
1 GB of RAM is a minimum requirement and there should be minimum of 200 MB of free space available in the system.
BlackBerry Smartphone Users
You can transfer your files from BlackBerry devices either wirelessly or by the simple wired connection. In the case of wireless transfer, BlackBerry OS 7 or OS 10 should be present in your handset and it uses Mobile AP available in your Smart Switch for Galaxy S7 device to transfer files.
If you want to transfer files from BlackBerry to Galaxy devices with a cable, then you need BlackBerry OS 7 or 10 along with USB cable.
iOS Users
iOS users are too having the luxury to transfer the important files to a new Samsung Galaxy device either wirelessly or with a wired connection. You need iOS Version 5.0 or above, iOS device cable and a USB connector.
The iOS device cable can be of lightening or 30 pins variety as both are supported. You can import all sorts of files saved in iCloud if you can remember your Apple ID and password. In that case, iOS version 4.2.1 or higher is recommended for such transfer.
Mac Users can also transfer the files to Galaxy devices if they have Mac OS X 10.5 or later with 1.8 GHz Intel Processor and minimum of 1GB of RAM. There should be at least 200 MB of space available to transfer the files.
Types of Files that can be transferred
Using Samsung Smart Switch Mobile, one can transfer almost any types of files into the new Galaxy device.
You can transfer calendar, contacts, pictures, messages, music files, videos, alarms, call logs, memo, app data, documents, home layouts, wallpaper and Wi-Fi setting.
Smart Switch for Galaxy S7 scans and transfers content stored on the device and from the SD Card if used.
Supported Devices
All Samsung Galaxy Series smartphones starting from Galaxy S2 are supported to transfer the files. In the case of any problems faced for earlier Galaxy devices like Galaxy S2, you should update the firmware and try again. Your problem should be solved.
Apart from Samsung, almost all leading smartphone manufacturers are supported in the Smart Switch app. those include LG, Sony, HTC, Motorola, Lenovo, Panasonic, Xiaomi, OPPO, Vivo, Gionee, Pixel, Lava, etc.
To note, due to compatibility issues, it might not be possible to install Smart Switch mobile app in all the smartphones. Also, there should be at least 500 MB of free space needed in the Internal Memory of both the phones to transfer data.
If you are using wired connection to transfer files, then your device should support the MTP (Transferring Media Files) option to allow the files to be transferred.
Special Features
Data transfer has become easier with the introduction of Samsung Smart Switch Mobile app. Just place your devices within a range of 8 inches and run the app on both mobiles. Upon selection, files will be transferred from your old mobile to the new one in a whisker. It always provide fast connection and faster data transfer even using a USB cable.
The Backup and Restore option is also very easy by which you can take the backup of your important data. Data synchronisation is a vital aspect of this app and you can sync your schedules and contacts from your address book.
You can download the Samsung Smart Switch Mobile app from the Google Play Store using the link mentioned below. Enjoy the power of Smart Switch for Galaxy S7 or S8 now.
Google Play Link: Samsung Smart Switch Mobile
In case you have missed, you can check and read our previous post entailing benefits of using Smart Switch for Galaxy S7.
---
About the author:
This is a submitted article by Ronald who loves to write tutorials regarding Android. He runs Androidscrib.com that publishes Android related stuffs. He's a license ECE with CCNA certification. He started exploring Android when he bought his very first Android smartphone which is LG G Pro.