Before We Begin…
Let it be known to all that the purpose of this article is to provide the fundamentals and basic WordPress plugins for new bloggers who are using WordPress. However, note that you can create your own list which you feel are the basic WordPress plugins that will boost your blog. There's no restrictions or whatsoever but we encourage you to consider our recommendations first.
WordPress is still the best and powerful CMS up until now. The flexibility and possibility to enhance and improve one's website or blog is endless. And one of the best things about WordPress is the capability to handle WordPress plugins. Each plugin can be used and integrate to our blog to enhance it. And right now, we will be sharing the basic WordPress plugins from which you can use for startup.
Admittedly, there are so many amazing and cool WordPress plugins available. However, not all are necessary and needed by your website. And we will share with you those we think the basic WordPress plugins your blog need.
Top Basic WordPress Plugins You Needed First
We are assuming that you have already decided the domain name and web hosting you want to purchase and WordPress is installed. Along with that assumption is that you already made your own custom WordPress theme.
To access your WordPress plugins or if you want to add or remove any add-on, then all you have to do is go to your WordPress Admin Panel > Plugins (left panel).
For Further Reading:
Hello Dolly, don't take us wrong here. We're putting this in the list not because this is actually needed but to emphasize that this is one of the basic WordPress plugin you will see right after your first install of WordPress. It doesn't do anything to your blog or website. It is just an WordPress add-on to show support to the song sang by Louis Armstrong. So it is safe to delete from your plugin section.
Like Hello Dolly, Akismet is also one of those basic WordPress plugins that you will see after WordPress installation. They are part of the default plugins. This plugin is important ONLY if you will enable commenting on your website or blog AND you will use the default WordPress commenting system. But if you will be using other commenting system like Disqus, or any other commenting system then you can remove Akismet as well.
However, if you want to use your WordPress theme's default commenting system then it will be best if you let Akismet stay in your WordPress.
Akismet is a great tool and one of the most recommended basic WordPress plugins any bloggers need. It helps you to filter spam comments so that it won't harm your blog. Google explained what and why you should be conscious about spammy comments or links coming out from your blog here.
Before you can utilize the advantages of using Akismet, you need to configure it first. And configuring it will require you to get the Akismet API key from Akismet's official website.
If you are new to blogging, then you should also consider thinking of what we call SEO. SEO is also known as search engine optimization. This is the process where you gain visitors, organic traffic, from known and popular search engines. Search engines are websites that offers you that big search form and results. Some of the known search engines are Google, Yahoo, Bing, Baidu, any many more. Search Engine Land can provide you a little more detail about what SEO means.
If you want to survive and gain more traffic especially if your niche then you have to improve your SEO techniques. This is to ensure that you can compete with other related niche. The Internet is vast. There are so many information available and your aim is to get noticed the first time that search engine results load. With WordPress SEO by Yoast, you can get the most basic idea on how you should work around your keywords.
It is not the only thing you can do with WordPress SEO, it also offers you to do some more tweaking. Here are some of the examples you can do with WordPress SEO by Yoast.
Configure your post and title meta
Configure which search engine robots you want to notify
Fix your canonical links
Breadcrumbs
Clean your permalinks
Configure your XML sitemaps
Make a better RSS configuration
Allows you to configure your robots.txt and .htaccess
Allows you to export and import your settings
And many more…
This is why WordPress SEO by Yoast is also one of the best and popular basic WordPress plugins you should have on your blog. You can read more about this plugin from their official website.
Although, there are other SEO WordPress plugins. And one of the known them is All in One SEO Pack. I have used this wonderful plugin but it was long time ago. However, Yoast's plugin is much flexible than the latter that is why I am no longer using it.
If you opt not to use Yoast WordPress SEO's sitemap generator, then I recommend you install Google XML Sitemaps. Your objective of course is for your website to be crawled and indexed by search engines. XML sitemaps can help you with this. By putting an XML sitemap, it serves as your blog or website's index page. Search engine bots will look for that and follow each links on your XML sitemap and will be reviewed for indexing.
What in the world is this PING optimizer anyway? A little analogy first. Let's say you bought a box of very sweet chocolate. You've wanted to share this with your friend and gave him a small bite. You are giving your friend a signal that you have a new chocolate and your friend wants to take one. That's how PING works in case of each post you are posting on your blog. Once you publish an article on your blog, WordPress will PING search engines to tell the system that you have something new for them to index.
So, where's the problem then? Why do I need a WordPress Ping Optimizer plugin?
Did you know that for each time you hit that "Save Draft" or update your page or post, WordPress sends a signal to search engines? Yes it does. And once that PING signal becomes too frequent you're blog is so close from being categorized as a spammer? Spam-pinging is not good for your site. And it has been proven and also explained by Loren Baker on his article.
I suggest take precautions and install this WordPress plugin. It will do you more good than harm. Especially if you are used to write directly on WordPress.
This is one of the basic WordPress plugin that we'd recommend for you to install. It's is another security plugin to protect your blog or website from participating in Pingback denial of service attack. Yes, you heard it right! Your WordPress blog can be used as a medium for hackers to initiate DDos or Denial of Service attack against their targets.
XML-RPC pingback is one of the capability of WordPress to handle pingbacks and trackbacks. However, some people were able to utilize this to attack other websites.
This is why we urge you to consider Disable XML-RPC Pingback as one of your basic WordPress plugins. If you opt not to use the plugin, you can head to Sucuri and check if your WordPress blog is being used for DDos attacks here.
This plugin is one of the best basic WordPress plugins I am using for all of my blog sites. It gives me a report saying which of the internal or external links are broken. Broken in the sense that the URL can be no longer existing, timing out, or is now redirected. It helps me to tweak my blog for fixing problematic URLs.
The Broken Link Checker can scan not only the links from your posts but also from your comment feeds.
Jetpack, originally available only on WordPress.com, is now one of the popular WordPress plugins used by many. Imagine a room full of tools you can use to customize your website. It's an all-in-one WordPress plugin. You just need to pick which tool you needed for your blog. Like customize forms, VaultPress to backup your blog, CSS editor, grammar checker, video press, shortcodes, and many more.
My only recommendation, although this plugin is awesome you only need to pick which one is necessary for your blog. I am only using the Shortcode Embeds for BugThinking.com.
If you are not aware, website loading speed plays a vital role. A sluggish website will result into more unsatisfied readers. They will opt not to wait for your website or blog to load if it is too slow. That is why there are WordPress plugins available to help you boost your blog. There are so many of them available for you to test – WP Fastest Cache, Hyper Cache, W3 Total Cache, WP Super Cache, and many more.
Based on my blogging experience using WordPress, I have tried two popular caching plugin – W3 Total Cache and WP Super Cache.
As of now, I am not using any caching plugin. I am trying to clean up and enhancing my blog's loading speed manually. And so far, the results from my testing were acceptable.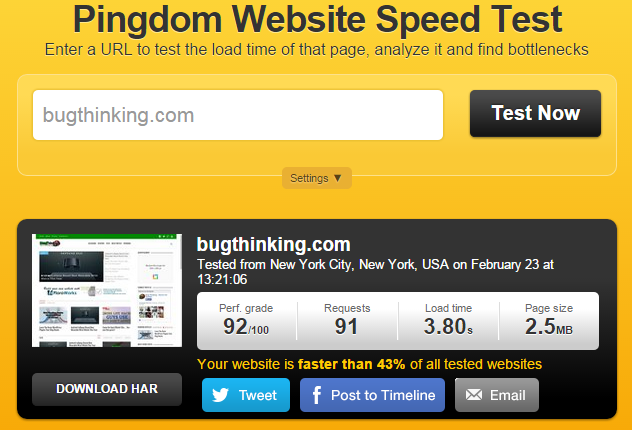 Our Final Note
The list above is not limited neither mandatory (not all). However, the basic WordPress plugins we've provided in the list will help you to boost your blog. As time goes, we are sure that additional WordPress plugins will be needed to do other things we need. But remember not to overdo it. Too much plugins can affect your blog's performance. Some plugins can affect your custom CSS because some plugins has their own CSS. Another will be your blog's speed and performance which may affect your reader's experience. The worst thing could happen is that the plugin isn't compatible with your blog. Sometimes if the plugin isn't compatible, it will bring your blog down. This is why we recommend you to install WordPress locally so that you can test the plugin there first.
Further reading:
You may noticed that I don't have any backup WordPress plugins. I am not saying that you shouldn't do regular backups. I have tried so many WordPress backup plugins but each have some after effects. Especially if your blog is using shared hosting, a backup process can affect the speed and performance of the server. This will cause slowness to your website and also to your neighbor since you are sharing it with them. I do my backup manually through CPanel. Probably one of this days I will show you how I do it.
Do you have any other basic WordPress plugins you think we should add in the list? Please share to help others.