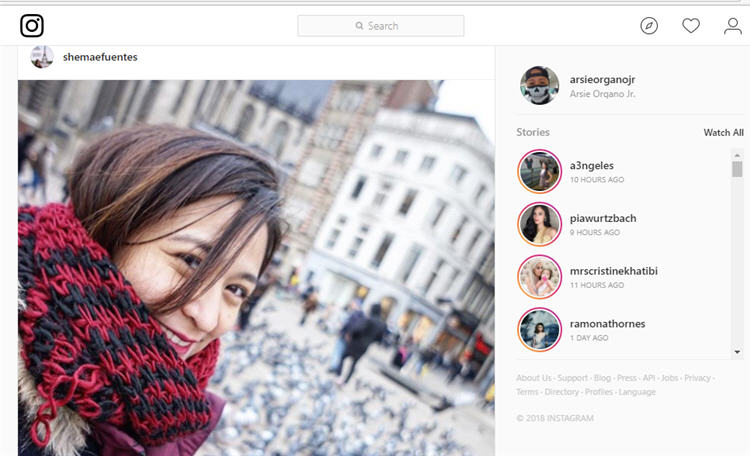 We all post Instagram stories, but the problem is that they are briefly on Instagram, as we may know. Now, there is a way of keeping these stories on your mobile as you may download IG stories effortlessly and without a waste of time. There is still no such option for direct download of the stories from Instagram, but there is a way to save Instagram stories differently.
Simply speaking, following the next 5 steps will help you save the Instagram story and keep it on your mobile phone for as much as you want.
1. Search for username of wanted Instagram account and copy it
On Instagram, every account has its own username. For the Instagram story download, you need to make sure that account from which you wish to download Instagram story is public. Remember the username by heart or copy it in order to proceed to the next few steps.
2. Browse for Weinstag.com/instastory
Once you copy the username of a public account, you can close the Instagram since you won't need it for the next few moments. Open your browser and type Weinstag.com/instastory into the address bar. The browser will load one of the best sites for downloading Instagram stories.
3. Now, you need to paste the username of a certain account
After the site loads, you will see a couple of options. First of all, there is a search box. What you need to do in order to proceed to a next step is to paste a previously copied username, or write it down manually.
4. Spot the ''Download Instagram Stories'' button and hit on it
Furthermore, when all the typing or pasting is done, you can move to the other option that this site offers. Spot the "Download Instagram Stories" button and press it once. Weinstag will take its time to find certain account stories and you will be able to continue to the next step.
5. Chose the "Download Button" below each image story or the same button below each video story
Finally, if you are on a good path, you should notice all the stories that searched account has been posting in the last 24 hours. In other words, Weinstag will separately, one below another, offer every single story that current user has posted. Underneath the Instagram photo story, you will notice the "download" button. Click on it and your work will be soon done.
If there's an Instagram video story, you will notice in the right-bottom corner of the story a download icon. That is what you are aiming for. Hit that button and the download should begin shortly after. The Instagram stories will be briefly saved to your mobile and you will be able to reopen them over and over again, even after they disappear from Instagram.
Instagram stories are really important in having them on your phone. Some of the stories are way too precious to let them disappear from Instagram. Therefore, follow these steps to assure that doesn't happen and keep them on your mobile phone.
Weinstag Instagram Downloader also lets you download photos and videos from your favorite Instagram accounts so you can keep them forever on your mobile phone or any other device you want.