A couple of ways ago, we shared how you can prevent data loss in Windows 10. This time, let's discuss Apple Mac.  In this hi-tech era, the demand for Mac systems has skyrocketed. Thanks to its user-friendly interface, intuitive design, great customer support, rich features and functionality, up-to-date version, and other impressive features. I have been an avid Mac user for quite a long time and it feels great to be a part of the Apple family!
Owning a Mac is good but having the correct applications and software is the icing on the cake. This will not only help in controlling the damage and managing files but also aid in increasing productivity and enhancing system performance.
Indeed, we value our data and are not prepared for their loss. For this, we all have heard of backup as a sure-shot-companion. But, how many of us do a backup on a regular basis? Further, how many of us follow the 3-2-1 Backup Rule?
At a recent Computer Backup Awareness Survey, Backblaze unveiled how often people backup their data:
After digging into data loss situations and after analyzing these statistics and figures, I realized how critical backup is!
Don't Despair! Lost or Deleted Data Isn't Gone Forever
I will like to discuss an instance of data loss where I eventually end up deleting all files while upgrading to macOS's latest version.
Fortunately, I tried Stellar Phoenix Mac Data Recovery, and it worked like a breeze! It is one of the top-rated software that recovers lost or deleted data.
USPs of the Stellar Phoenix Mac Data Recovery—A Top-Rated Anchor of Mac Data Recovery
First Great Thing about the Software—A Free Trial
The software can be tested through the demo version.
I downloaded and installed the Demo-version of Stellar Phoenix Mac Data Recovery to evaluate its potential for what it proposes. With a hands-on trial version, I was able to scan and preview my lost files and folders. Satisfied, I then hit the Buy Now button and registered the software to regain my inaccessible data.
Second Impressive Fact about Software—Basic Requirements
The software is completely free from complicated specifications. It has simple requirements. Just fulfill it, and you are good to go!
Software Specification
System Requirements
Processor
Intel
Operating System
macOS Sierra 10.12, 10.11, 10.10, 10.9, 10.8, 10.7 & 10.6
Memory
1 GB Minimum
Hard Disk
50 MB of Free Space
Figure 2: Represents the Software Specification
The benefit of this straightforward specifications is it does not eat up system resources. Moreover, its download and installation are simply a matter of seconds!
Third Attractive Trait about the Software— 6 Language Support
This Mac Data Recovery utility is not confined to only the English language. In total, it supports 6 languages. This gives users from different geographies to avail the software!
Languages
Software Interface Available In
English, German, French, Dutch, Italian, Spanish
Fourth and Most Striking—Comprehensive Recovery
This comprehensive software ensures maximum data recovery with great ease and convenience within a stipulated time frame.  You can count on it for recovering the following:
Lost Media
Optical Media
Encrypted Disk
Deleted Volumes
Formatted Files
Permanently Trashed Files
External Hard Disk Drive
Time Machine Backup Drive
Fifth Unique Trait about the Software—Compatibility
The software is highly compatible with different Mac OS as well as Mac products—
Compatibility
Operating System
macOS Sierra 10.12, 10.11, 10.10, 10.9, 10.8, 10.7, 10.6
Mac products
iMac, MacBook Pro, Air, Mac Mini, and Mac Pro
Sixth Distinguishing Trait about the Software—Value-added Features
This software has some distinguishing attributes that make it stand apart from its competitors. One such is the Create Image Option. It is the perfect option for those users who have bad sectors on their Mac hard drive. They can use this mountable image of the Mac volume, hard drive, or a selected region and use it in the case of media failure as a complete backup.
I highlighted it because using this disk image file (.DMG) feature was able to easily create an entire image on my Mac hard drive and execute the recovery process effortlessly.
Another striking feature is its Advanced Scan Option. It is an ideal option for users who have lost their data due to hard drive formatting. This mode will execute deeper scanning to locate missing files.
Last but not the least, the Stop, Save & Resume Recovery support is also excellent. Thanks to it, you can stop the process in between and proceed with your priority tasks. This convenient Resume Recovery feature allows you to resume data recovery on previously saved disk image files.
If I talk about its recovery process, then I can easily say it is very intuitive: you do not require any advanced technical skills.
I applied the following steps to recover the data
1. I Launched the Software
2. I clicked on the Start New Scan option
3. I selected the desired recovery option (Deleted Recovery), partition, or disk, and proceed with Start New Scan.
4. Then, the Scanning process to recover the Deleted Files begins.
5. On its completion, I selected the desired recoverable files from the recovered deleted files hierarchy to Preview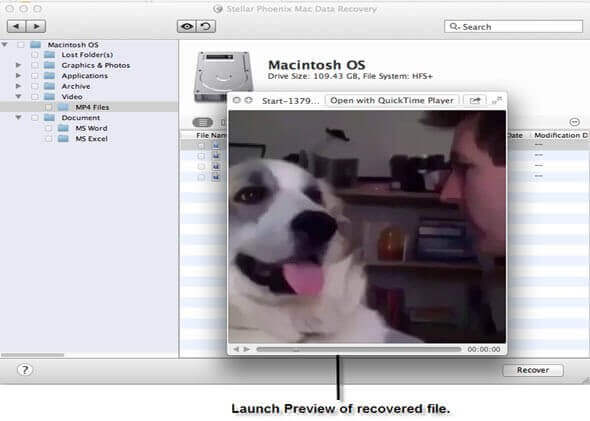 6. After viewing the recoverable files, I proceeded with the Recover option by selecting the files and specifying the desired destination to save the files.
The process is complete!
At a Glance
Stellar Phoenix Mac Data Recovery is a user-friendly software and works efficiently in sync with user expectations. Its remarkable features make the recovery process quite straightforward.
One thing that attracted me most is that it is easy to operate. Regardless of whether you are tech-savvy or not, you can easily restore your lost, deleted, or formatted data. So, if you were of the opinion that you do need advanced skills to recover your data, then this software will change your viewpoint.
Stellar Phoenix Mac Data Recovery is a viable solution for Deleted as well as Formatted Data Recovery. Its overall performance and functionality are superb.  It is my knight in shining armor, and I give it a 9 on 10!