Samsung Galaxy Note 4, do you think it is still worth buying one after 6 months since it was first introduced back in September 2014?  You don't have to answer that now and we're not in the position to push you in buying one now. Especially when the Korean company recently announced the new Samsung Galaxy S6 Edge series. We're assuming that you're having a hard time now deciding whether to wait for the official release of the next big thing from Samsung. Well, while that's being cooked let's focus on Samsung Galaxy Note 4. Do you think this amazing phablet is still competitive with the other recently released smartphones in the market? Let's all see as we provide you our own Samsung Galaxy Note 4 full review.
Unboxing Samsung Galaxy Note 4 – This is it!
The packaging, there's nothing extraordinary about it. Samsung packaging was pretty much the same when compared with all of their Galaxy smartphones. The box itself is almost the same as with Galaxy S5 but a little bigger of course and they still use that woody-look box appearance.
But don't ignore that box, that one is really something. If you think that it's just a plain box made of hardened papers then think again. The company takes pride with their box as well. If you look closer into the box itself you will notice a small writing there saying that the box is 100% post-consumer recycled paper and the prints all over the box are soy-based inks. This makes the box 100% recyclable too. Eco-friendly indeed! Actually you will see this also on the box of Galaxy S5.
What to expect inside the Samsung Galaxy Note 4 box? We want to emphasize this with everyone who's planning to buy one because we all know that there are replicas out there. So you should know what you are the things inside the box.
Inside the Samsung Galaxy Note 4 box
The papers. They may or may not all be there but you should have the Smart Switch leaflet, Certificate of Warranty, and the Quick Start guide manual.
Samsung Galaxy Note 4 handset with S-Pen
microUSB cable
Battery
In-ear headphones
AC wall charging unit
Extra stylus for your S-Pen
Extra earbuds for your headphones
Samsung Galaxy Note 4 Unboxing Video
Here's a short Samsung Galaxy Note 4 unboxing we did with the help of our good friend from Petiksmode. This is to show you how amazing this smartphone is and so that you can have a better glimpse of what's inside the box.
Unboxing Samsung Galaxy Note 4
Our First Impression – Bad or Good?
A big WHOA! That's the first thing we can say about Samsung Galaxy Note 4 after pulling it out from the box. We did a quick inspection – around the look and feel of this phablet.
Galaxy Note 4 is one of the considered premium or high-end smartphones in the market. And this phablet does really looks elegant from the outside.
A few years back, we all thought that the trend of smartphone in terms of size is to make it smaller. But it looks like that our expectations went in reverse. It seems that bigger is better – TRUE! Look at Apple's iPhone 6 and iPhone 6 Plus, they've increased the size as well. There's one good reason for that – what's the sense of having a monstrous display resolution if you can't enjoy it. 🙂
Going back to our Galaxy Note 4. So the size is not too big nor too small for you to hold. It is just enough for your grip (or not if you have little cute hand). This smartphone's dimension is 6.04 in x 3.09 in x 0.33 in. The first thing you will see is the 5.7 inches Quad HD Super AMOLED display and the Home button below. Alongside with that Home button are the Multi-tasking and Back capacitive buttons.
The side frame of Galaxy Note 4 is made of metal while the back is… well, the back is Galaxy Note 3's come back where the material used is leather. Unlike Galaxy Note 3, the fake stitches has been revamped with Samsung Galaxy Note 4.
The volume rocker is situated at the left side, power button on the right, earphone jack on the top, S-Pen and microUSB charging port at the bottom. In the front is the front-facing 3.7MP camera alongside with the usual sensors. While at the back is the 16MP primary camera, LED flash, and heart rate monitor.
We can say that Samsung Galaxy Note 4 does not look cheap and fancy. It is actually the opposite. You can say that this is one luxurious high-end Android smartphone.
A Quick Look at Samsung Galaxy Note 4 Features
Let's dig a little deeper and try to look more into Samsung Galaxy Note 4 to see if it is a keeper. It may be too early to say anything conclusive especially if only had this smartphone for a few days. But we will try to give you valuable information along the way.
Look and Feel of Samsung Galaxy Note 4
Aside from having to say that Galaxy Note 4 does look sturdier and bigger, it looks elegant too. As mentioned the grip is just right (for me) even though it is a little bigger. And it is not that heavy in its weight at 176g. For some, it may be a little bulky in the pocket but who cares anyway? Bigger is better, right? And it does make sense for this to sport such dimension –  6.04in x 3.09in x 0.33in – to enjoy it more!
You can say that the Galaxy Note 4's biggest pride is still the S-Pen. The two will always and should be together. It won't be a Note without the S-Pen. 🙂 You can scribble important notes and save it on your smartphone. In this way, you can avoid from leaving oil marks on your display screen.
The Samsung Galaxy Note 4 sports a Fingerprint sensor which is Paypal certified. You can use this as your handset's lockscreen security measure too.
About the sensor, here are the other sensors Galaxy Note 4 sports:
Accelerometer
Gyro
Proximity
Compass
Barometer
Gesture
UV
Heart rate
SpO2
The battery we can discuss in a bit but you can't really ignore that "fast charging" feature. And another feature that you don't hear everyday is the ANT+ (ant plus). The ANT+, for one helps the heart rate feature of Galaxy Note 4.
Also there's the S-Planner and S-Voice that can take voice commands and dictations. The Air Gestures are still there which you can use to access your phone.
Dropbox, a cloud storage where you can save your files goes along with the package. You will be given a 50GB cloud storage space once you register and activate it. Well, that will be an additional storage along with your own Google Drive account. You can also install Dropbox on your computer once you download and install it from their official website.
The Samsung Galaxy Note 4 also sports noise cancellation and dedicated microphone.
Once you turn on your Samsung Galaxy Note 4, nothing much changed really. The whole shebang is still there – the G-Apps (Google Apps) and some more apps. To be honest, I feel most of these apps are becoming bloatwares because I don't really use them all. The sad part of it is you can't uninstall most of them because they're installed in the system partition. Unless you try to unlock and root your Galaxy Note 4 then you'll have the liberty to remove those other apps.
Battery Life and Fast Charging
Samsung Galaxy Note 4 battery life. Actually, this is one of those things what we all consumers are looking for in a smartphone. Aesthetics ain't enough to make us drool over an amazing phone. The longer we can use the smartphone the better.
Galaxy Note 4 packs a 3220mAh Li-Ion battery, which is bigger by 220mAh than it's predecessor Galaxy Note 3.
As I've mentioned before, Samsung Galaxy Note 4 sports an Adaptive Fast Charging Quick Charge 2.0 which allows you to quickly charge your phone. Normally, you can fill your battery up to 60% full in 30min. So that means less waiting.
We've done a little test on the battery to check how far really it can go. During my normal days, it can go as far as ~18 hours (probably can go up to 20 hours). My email is working around the clock downloading each update for every 5min and also I use my Samsung Galaxy Note 4 mail services to answer back. I have like 4-5 Google accounts pushing updates also on GMAIL for every 5min. And for Social apps, I have Facebook, Hangouts, and 4 accounts in Twitter. I also turned on my game app notifications. Aside from it, Google Play updates sometimes run in the background. So it isn't bad at all.
But if you are a heavy user like if you are gamer or if you are planning to go on a movie marathon I guess your Galaxy Note 4 will only last like around 5 – 6 hours under 0 Brightness (setting it to middle) and medium sound. This was the same results after doing a Battery test using Antutu Tester.
In the end, the fate of your battery depends on how much app are you using or activated on your device. There are apps that can drain your battery too fast. Facebook and Instagram app are two of them and this has been proven and reported by AVG Performance Report.
Display – Ultimate Viewing Experience
Bigger screen, bigger resolution! You can enjoy a 1440 x 2560 pixels screen resolution within that 5.7 inches Super AMOLED capacitive touchscreen display. It also features a multi-touch screen and I was able to test it with all of my fingers – all 10 of them.
The display screen of Samsung Galaxy Note 4 is protected by Corning Gorilla Glass 4. So you can assure that your display screen will not be scratched or break easily.
Superb Camera and Video features
It's not only the display screen that this monstrous phablet takes pride. You will enjoy also the built-in cameras. In the front is the 3.7MP camera which you can use during face chat or taking a selfie.
At the back, well that's where everything gets cooler. The rear camera is a 16MP camera with 5312 x 2988 pixels, optical image stabilization, autofocus, and LED flash.
For the camera options or settings, you can choose from a wide selection or presets or modes until you get the best shot you're looking for.
And if you're worried about that little shake while capturing a special moment, then it might be worth mentioning that Samsung Galaxy Note 4 sports a feature called "Shake Free" or also known as Smart OIS.
The video camera sports a [email protected], [email protected] consecutively with optical stabilization.
Here are some of the sample camera shots I took from Samsung Galaxy Note 4. They are all raw and unedited photos.
From Android Kitkat to Lollipop
Out of the box, the Samsung Galaxy Note 4 is using Android 4.4.4 also known as Kitkat. But you can also expect that soon you will get the Android 5.0 or Lollipop version. In other regions the update is already available but here in the Philippines, the only way I can load Android 5.0 on Samsung Galaxy Note 4 is not via OTA or Samsung Kies. We can discuss that on a separate article.
I have been a Kitkat user for a while with my previous Android smartphone and I can say that it is far better as compared with the Jellybean version in terms of performance.
The Famous S-Pen now Enhanced
Well, about that S-Pen. To be honest I am not a scribbler type of person. Probably it is because for more than 15 years I've been facing a lot of keyboarding (typing) rather than writing with any kind of pens. That's why it doesn't really bother me whether it is there or not. However, for most the S-Pen is heaven sent and one of the things that made Galaxy Note series famous.
But if you love the Air Command feature like the one in Galaxy S5 then of course you will need the S-Pen to fully utilize it. You can drag and drop photos on a note. Scribble some important notes or meetings on a memo. You can almost do everything as if you are writing on an actual paper or memo pad.
Samsung Galaxy Note 4 Specifications – Yay or Nay?
This will be just a recap of Samsung Galaxy Note 4 specifications and features which was already mentioned above. And the table below will show some of them which we have not mentioned.
Description
Samsung Galaxy Note 4 Specifications
Variants
SM-N910F for Europe
SM-N910K/SM-N910L/SM-N910S for Korea
SM-N910C – Asia, Europe, South America
SM-N910FD – United Arab Emirates
SM-N910FQ – Turkey
SM-N910H – Asia-Pacific
SM-N910G – Singapore, India, Australia
SM-N910U – Hong Kong, Taiwan, Australia, New Zealand, Chile
SM-N910W8 – North America
Network
Supports GSM / HSPA / LTE
Dimension
153.5 x 78.6 x 8.5 mm
Weight
176 g
SIM Slot
microSIM
Display Type
Super AMOLED capacitive touchscreen
Screen Size
5.7 inches
Screen Resolution
1440 x 2560 pixels
Android OS
Kitkat (Android 4.4.4) upgradable to Lollipop (Android 5.0)
Chipset
Varies on Samsung Galaxy Note 4 Variants
Qualcomm Snapdragon 805 (SM-N910S)
Exynos 5433 (SM-N910C)
CPU
Varies on Samsung Galaxy Note 4 Variants
Quad-core 2.7 GHz Krait 450 (SM-N910S)
Quad-core 1.3 GHz Cortex-A53 & Quad-core 1.9 GHz Cortex-A57 (SM-N910C)
GPU
Varies on Samsung Galaxy Note 4 Variants
Adreno 420 (SM-N910S)
Mali-T760 (SM-N910C)
Memory
An internal of 32 GB, 3 GB RAM and with a microSD card slot which can house up to 128GB memory card
Camera
16MP rear facing camera
3.7MP front facing camera
Audio
A loudspeaker and 3.5mm jack
WLAN
Wi-Fi 802.11 a/b/g/n/ac, dual-band, Wi-Fi Direct, hotspot
Bluetooth
version 4.1
GPS
Enabled with A-GPS, GLONASS, Beidou
NFC
Yes
Infrared Support
Yes
USB
microUSB v2.0 (MHL 3 TV-out), USB Host
Sensors
Accelerometer
Gyro
Proximity
Compass
Barometer
Gesture
UV
Heart rate
SpO2
Battery
Li-Ion 3220 mAh battery
Colors
Frosted white, Charcoal black, Bronze Gold, Blossom Pink
Source: Samsung Galaxy Note 4 – GSM Arena
Performance Tests
The following performance testing we did on Samsung Galaxy Note 4 was conducted using some known and popular benchmarking apps from Google Play itself. I only prefer 3 of them. I used Antutu Benchmark, Antutu Tester and NenaMark 2.
To be honest I am not a big fan of these benchmarking tools because I think the user itself can say if a smartphone's performance meets his expectations. But there's no harm and trying them out right? At least you can boast the results with the people around you. 🙂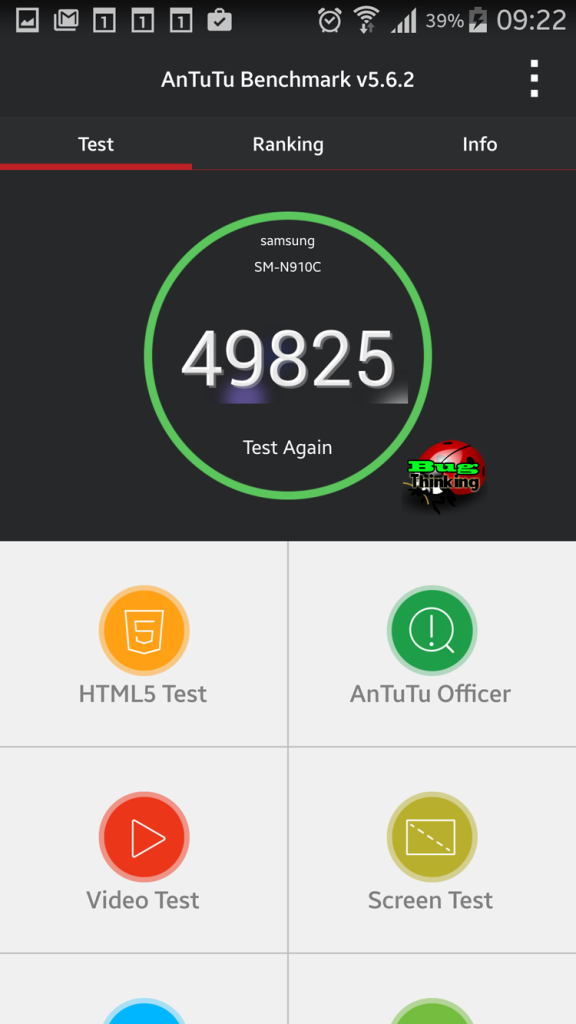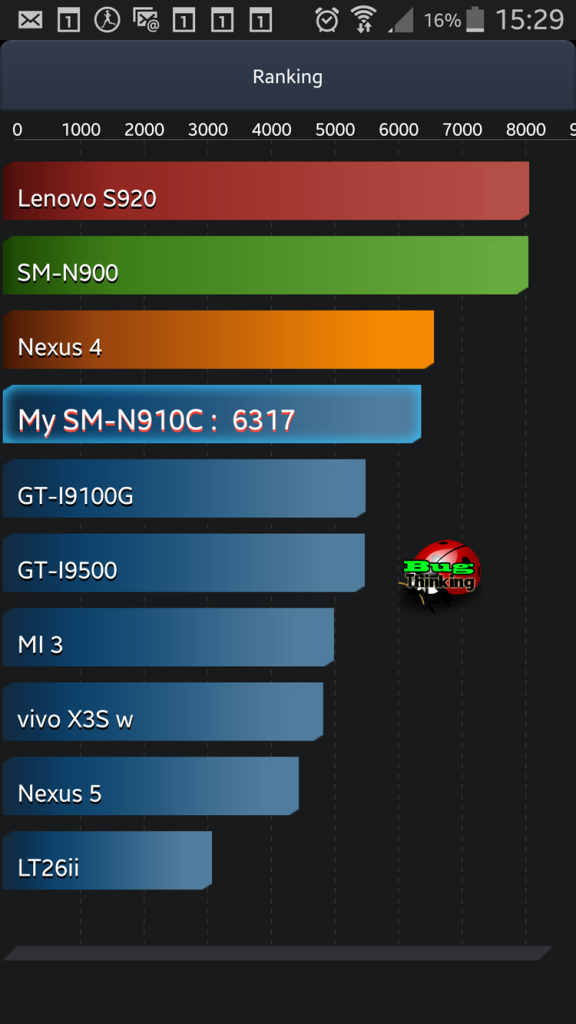 Overall the results from the tests shows far beyond my expectations in terms of speed and how the Samsung Galaxy Note 4 handles multi-threading. This is to ensure that I may experience less sluggish moments while using the phone.
Also, I enjoyed more now playing some of my favorite HD games like Clash of Clans, Asphalt 8, and Dawn of Immortals.
The Price – Is it worth it?
It's been almost 6 months now since the first Samsung Galaxy Note 4 was seen all over the world. And since then the price depreciation didn't slide down the fast. The price of a brand new Samsung Galaxy Note ranges from around Php 31,000.00 to Php 43,000.00. Or for my case I upgraded my Globe Plan from the original Best Ever MYSUPERPLAN 999 to Plan 1799 with a cash-out of course of Php 2,400.00 per month for 6 months. I am now tied with a new contract for 24 months.
Samsung Galaxy Note 4 SM-N910H Black Factory Unlocked International Model is also available at $622.62 with free shipping. But if you want a cheaper one and if you are in the US, you can get Samsung Galaxy Note 4, Charcoal Black 32GB (Verizon Wireless at $199.99 for the likes of Verizon.
The Samsung Galaxy Note 4 is indeed pricey but a good investment especially if you are in the corporate world. Or even if you have so much at hand and you want to organize your meetings, schedules, and other stuffs.
In the end, all we can say is…
If you are into a high-end smartphone then we can recommend you buying or owning a Samsung Galaxy Note 4. But don't compromise your budget of course. The Samsung Galaxy Note 4, as it stands now, is one of the best and popular phablet in the market. One proof of it is that whenever I go to my carrier's re-seller (Globe), they're always out of stock.
And another worth mentioning since I am always too busy and can't really go to the gym I have my own monitoring app called S-Health. It's a pretty cool little nifty app that I am using right now. At least I can monitor my heart beat rate, number of steps made for the day, and the app can offer some recommended exercises while on the go. These little things and baby steps I can do to watch my health even under pressure.
We're not saying nor forcing you to buy your own Samsung Galaxy Note 4. But if you are planning to, then it will be worth every penny.
Samsung Galaxy Note 4 Unboxing and Review
Packaging

First Impression

Look and Feel

Battery Life

Display

Camera

Features

Price
Unboxing Samsung Galaxy Note 4
Check out our Samsung Galaxy Note 4 review and unboxing. A few months after Samsung Galaxy Note 4 was first seen, do you think it is still worth buying one of this?
We may be overwhelmed by the elegance of Samsung Galaxy Note 4. But definitely this smartphone did not failed and went beyond our expectations.
If you are to ask, what will be your personal rating with Samsung Galaxy Note 4?