Why Do We Need To Know The Most Profitable Mining Pool for Hashflare.io?
You are here because you are also curious to know what is the most possible combination or which is the most profitable mining pool for Hashflare.io – right? Or maybe you are one of those people who opted to use mining cryptocurrency as another source of passive income while at home. If yes, then you are not alone in this crusade. We are very much interested too! And so far, I will be sharing with you what I have found out so far after digging a couple of information from other users' (or miners) experiences, colleagues and 3rd-party tools.
People invest their hard earned money into a business with an expectation to gain more at the end. And when we say "gain more at the end", we should keep in mind when do we expect the return of investment (ROI). Return of investment will be discussed in another article but in a high-level, when we invest we should know also when to gain.  And of course, how much are we expecting to get from any investment.
How did we ended up with Hashflare.io? After seeing the high-level review from Techradar about "The best cloud mining providers this year 2018" we started looking at the feasibility to earn. Actually, Hashflare.io was never our first choice to invest into cloud mining. But due to some technical issues with Genesis-mining wherein it was hard to buy Bitcoin hashpower, we went to our second option. By the way, if you want to invest in Genesis Mining, you can use my affiliate code to get as much as 3% for your purchases. My Genesis Mining affiliate code is: cVoCLG.
Bitcoin Investment Is Still A Gain For People With Strong Hands
Finally we decided to join the bandwagon of Bitcoin investment craze, even others will say Bitcoin cloud mining or investing to Bitcoin is not a good idea – hey why not? A gain is still a gain. Even if we hear a lot of negative feedback about investing in Bitcoin or other cryptocurrency  is a big no-no, we're taking the risk! Why? Look at the cart below and tell me what impression did it gives you?
If we have only started to invest in Bitcoin and hold it back in January 2017 (or even before) where the price of 1 Bitcoin (BTC) was still dancing around ~$500/ish USD then by the end of the year we could have ~2,074% gain in fiat money. This 2,074% increase is almost equivalent to around ~$19,672/ish USD. If that is not lucrative for you, well it is for us! 🙂
Anyways, we will not get into the details about the chart in this article. The point we are trying to say is that, in any investment there's always risks involve. Despite of different controversies and negative feedback about cryptocurrencies, such us a bubble that will burst anytime – it continued to grow. And happy are those who invested in BTC prior it broke out from a very long consolidation stage.
Bitcoin (BTC), among other cryptocurrencies are going through major corrections, others consider this is a big pullback. While for others whom did not believed in this digital currency, for them this is the time they want to say – "I told you so! It's a bubble… and bubble pops!" thingy!
But for those who knows trading, like in FOREX or stocks trading, pullbacks and corrections are part of the market – it's nothing new. So, if we are correct then this is the season where people should accumulate more of this digital currencies like Bitcoin (BTC).
There are ways to accumulate Bitcoins while the market is still in sideways direction. And one of those things we considered is cloud mining and we're doing it with Hashflare.io. And in this journey, like everybody else, we will try to find a way to find the optimal settings to find the most profitable mining pool in Hashflare cloud mining pool.
How To Identify The Most Profitable Mining Pool In Hashflare.io?
Before we proceed, we would like to emphasize that we will only cover SHA-256 algorithm in this article. SHA256 algorithm is the most commonly used for mining Bitcoin. Although there's no stopping you to combine it with Scrypt in mining. It was discussed that for better BTC payout, it is advisable to use SHA-256. You can read also in this article from CoinPursuit what's the difference between SHA-256 and Scrypt in mining.
Once you joined and registered an account with Hashflare.io, there is already a default mining pool readily configured for you. And for us, here's how it looks like when we first registered.
Users will have a choice to configure their pool until they reach 100%. Which means you can either allocate the mining pool to only one (100%) or distribute it to other pools which you think will be the best mining pool for you. Your options are (as of writing this):
SlushPool
F2Pool
AntPool
BW.com
BTCCina
Since, it was our first time in cloud mining and we did not do any research prior to registration, we ignored the pool settings. We started purchasing hashpowers and started with around 0.52 TH/s for a year contract. Yeah, it was not enough but we just wanted to know if we will gain something with a half Terahash of SHA-256 mining power. With that default setting and mining power we were only getting between 0.0000623 BTC – 0.00007176 BTC per day. This is exclusive of the SHA-256 maintenance. We just don't want to look at the maintenance fee during that time, Somehow, we already felt contented and thought that it was already fine. All we know is we're getting somewhere and we're accumulating coins. Until we found out that there will be times that the mining pool will not be profitable for a day or so. And that is when we started digging out how can we earn more.
Know From Other's Experiences
This is the first thing we bumped into after Googling which is the best mining pool for Hashflare –  a Bitcoin forum website called Bitcointalk.org. From here, a discussion thread which started since 2015 talks about the optimal settings user used to accumulate good Bitcoin payouts from Hashflare. The disucssion is still on-going as of writing this article.
I've seen the results from here. Other's played with different combinations while others stayed in either SlushPool, F2Pool, or AntPool. The common among their feedback is no one (or at least a handful of them) seems to be disinterested with either BW.com nor BTCCina. For those who've tested the available mining pools, the latter 2 gives small payouts.
A couple of them, shares their daily testing of which can be the most profitable mining pool in Hashflare cloud mining by jotting it down religiously on a Google Spreadsheet. Like this one guy, who recently shared his daily analysis of which is the most profitable or best mining pool for Hashflare.
Use Minerlytics.com Actual Hashflare Mining Pool Daily Test Results
From that same discussion thread we mentioned above, we bumped into this 3rd-party website called MinerLytics.com offering a some kind of mining pool analytics intended only for Hashflare. And to be more specific, SHA-256 mining algorithm users of Hashflare.
How does Minerlytics work? Based from what they are saying and transparently indicated from their homepage, they simply registered 5 different accounts with Hashflare. Each accounts have allocated 100% of their mining power to only one mining pool. This means, 1 Hashflare mining pool for each account. And everyday, they compare the BTC revenues from each account per 1 TH/s. And once you go into their homepage, you will see something like the image below.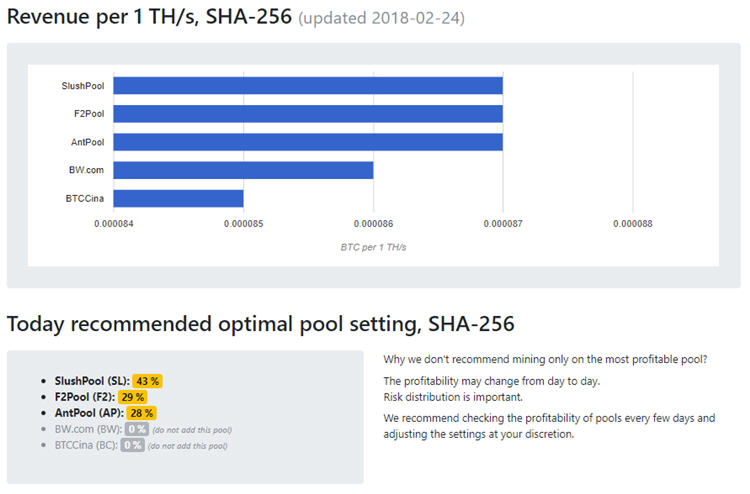 Pool Distribution Stats from BTC.com
Another 3rd-party website from Beijing, China under Bitmain Technologies. Bitmain Technologies is one of the world's most recognizable Bitcoin companies which distributes Bitmain's ASIC chip technology. One of the tools from BTC.com was their Bitcoin real-time pool distribution stats which looks like the one below.
As you can noticed, if we are to compare the results from BTC.com compared with the analysis from Minerlytics.com – you will find that there's a difference. But, if we are to analyze a little deeper and then do a comparison, we can come up with a common, if not the most profitable mining pool from these information.
Blockchain.info Pools Stats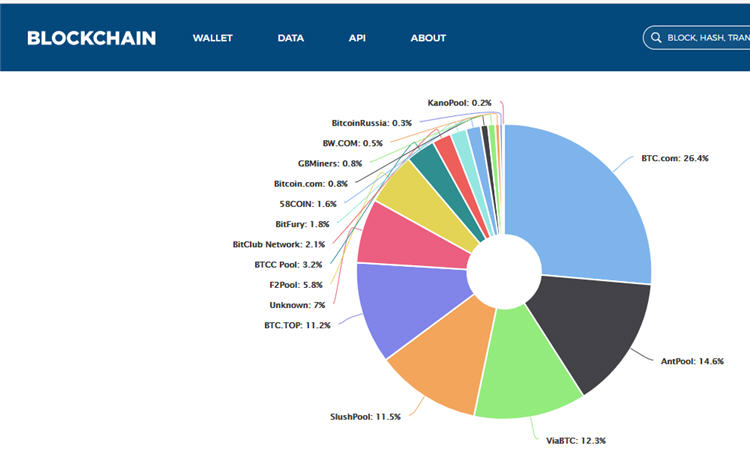 Another popular pool stats monitor is from Blockchain.info itself. This company is the most popular and known leading software platform for digital assets. It has played a very vital in cryptocurrency transactions. The data they present is pretty much the same as with BTC.com.
Summary
This summary is inconclusive and may vary in the coming days. However, just looking at the feedback and also from the analytics report from Minerlytics, Blockchain, and BTC.com, probably for now our best candidates will be either of the following:
100% AntPool
Combination of AntPool, SlushPool and a little bit of F2Pool
75% allocation for AntPool and 25% for SlushPool
As a personal preference, we have tried going with Minerlytics (for now). But of course, we will do our own analysis and comparison too. As of writing this, we've only tried going with Minerlytics' recommendation for 2 days. And we're accumulating BTC around 0.00008667-0.00008711 BTC payout per day per 1TH/s. Well, maybe it is not bad at all – just maybe. However, I will take a combination of the most profitable mining pool available in Hashflare instead of allocating 100% in one mining pool. Why? We are not always sure that the pool uptime is 100%. So what if something unexpected happens. A good combination will give us a little bit of assurance for backup as compared to none. Does it make sense?
How about you? Are you also into cloud mining or more specifically with Hashflare? Would you mind sharing your experiences too on how to find the most profitable mining pool for Hashflare?
---
Disclaimer
The author is NOT, in anyway directly affiliated or connected to the product/website he mentioned in this article Hashflare.io. Neither is the author a financial adviser so do not treat this article as a recommendation but rather an experience being shared to others. If the article tends to be biased, we welcome comments so that we can further improve our research.  We use the affiliate links provided by Hashflare.io as additional revenue by sharing their product.
The author nor this blog site will not or should not be held liable for any issues/problems doing transactions with the aforementioned product.