This time, after almost two weeks, I will share with you my own Vaporesso Nebula review. I started vaping with Joyetech eGrip v2 OLED 20W which I bought almost 2 years from now. And to be honest, after that I've upgraded and changed vape mods and as wells as atomizers which I failed to post a review. And since I became at ease and have trusted Joyetech's product, the next mod I bought and used were Joyetech's eVic VT 60W and Joyetech's Cuboid 120W version. And now, I decided to try a new vape mod line, hence, I am going for Vaporesso's vape mod line. I was amazed with the design and feature of this mod so I have decided to do a Vaporesso Nebula review. And I am sure, you are interested too that is why you are here. So, let us begin.
Vaporesso Nebula Unboxing
Let's start with unboxing our Vaporesso Nebula! Let's check out what's in the box and do a "look" first and "feel" after. The hard box packaging is not bulky and big – I don't think it should be. Here's what you should see once you get to hold and see the box.
As you can see, all the high-level information you need to know is there in the box itself.
Vaporesso Nebula Specifications
Size: 82mm x 48mm x 32mm
Output: minimum of 5W up to 100W
Display: OLED 0.69″
Resistance range: 0.05 ohms – 5 ohms
Temperature Control Range: 100°C-315°C/200°F-600°F
And what should you expect inside?
Nebula Mod
Battery adapter (for 18650 battery) but if you have a 26650 battery then it will fit just right
USB charger cable
User's guide manual
Warranty card – unfortunately it is not applicable in vape shop where I bought my mod
Warning/FAQ card
My first impression of Vaporesso Nebula Red version reminds me of Marvel's Iron Man. The aesthetic design is really something and it does not look cheap. Well, it is not cheap neither is too pricey – just in the middle. The body design sports a spaceship-like design like of those from movies like Star Trek. Maybe, that's one of the reason for bearing the name "Nebula" which is defined as "an interstellar cloud of dust, hydrogen, helium and other ionized gases".
Actual Performance Vaporesso Nebula Review
No doubt, the design is pretty slick and the sturdy ergonomic design is good for the grip. It feels just right in the hand and it is quite noticeable because of the futuristic design. Also, Vaporesso Nebula uses their latest chipset, OMNI board. This OMNI board has features that can give you temperature control for Ni, SS and Ti, two custom TCR modes, wattage mode, bypass mode. You can watch this video to know more about Vaporesso's OMNI board special features.
One of the few features of Vaporesso Nebula's OMNI board that I really liked is the CCW and CCT. This is the curve controls where you can tweak either your wattage or temperature per 1/2 second. I have been a variable-type mod user since day one but having able to use OMNI board's CCW control enables me to conserve battery life without compromising the taste of my juice. I have a dual-coil Arsonist KA1 (fused clapton) wires which reads at 0.19 ohms and Fiber Freaks cotton settled in my Geekvape Medusa RDTA. My CCW settings is an alternate of 70W and 50W. This settings keeps my wire warm enough and helps to avoid from toasting my Mr. Smookies (Strawberry Marshmallow Cookie Ice Cream) max VG juice.
If you are mech mod user, unlike me, you can also try the BYPASS mode. It is said that even though that the mechanical build is not tailored like what other full-mech mods, virtually it still feels like one. I have not tried it and I won't be able to compare since I have been a variable user ever since.
Another feature of the OMNI board within this Vaporesso Nebula, which makes it safe to all most especially to those new in vaping is the Smart Wattage! Let's say you have a new atomizer and you plug it into this mod, it will first ask you if you are attaching a new load or an old one. It simply means it checks if you will be using the same atomizer you previously used on this mod (with the same ohm load) or it could be the same atomizer but the ohm load is different now (changed wires or cottons). What the OMNI board will does is it automatically calculates what is the best or optimal wattage you should be using based on the ohm load. With this feature, you won't accidentally fire an incorrect wattage if you are changing atomizers. Basically, aside from the physical design, OMNI board features is really what makes this Vaporesso Nebula even greater.
And another thing that I like is you can use either 18650 (just use the battery adapter included in the box) or the 26650 battery. This flexibility enables you to use which ever available battery you have. But I am warning you as early as now, it is advisable to use the 26650 battery so that you can use your mod longer.
It's not perfect you know!
Although, I've already mentioned the good stuffs above but there are still some areas where this mod can be improved. One of the things that I immediately noticed when I first used this mod is it eat need consumes a lot of battery power. When I bought this Vaporesso Nebula I also purchased a new Enook IMR 26650 3.7V 5000mAh Max 60A. However, whether I am using the fixed wattage, CCW, or temp settings my battery will be drained in less than a day. I had to swap and plug my extra battery just to continue enjoying my "vape time". I already discussed with my seller and they also find it weird. But I think the mod is really a battery monster eater. Because my Avatar Li-Ion ICR 18650 3.6V 2000mAh 20A can only last in a few puffs. I will also forward this comment and observation to Vaporesso and ask them. Maybe they can give me some more information. Or maybe because I am a chain vaper. But as of the moment I am not really certain. Maybe some of the guys can comment their experiences too.
Another thing that I am not really pleased is the battery door. If you are not careful and have a habit of like moving your hands while the mod is in your hand, the battery door can easily slip and slide away from your hands. It seems that the magnet is not too strong. I almost dropped it while playing with the battery door because the sound is pretty nice to hear.
Some other users have said that they were annoyed when switching modes. Simply because you have to do 3 pushes on the menu button and 1 hard one to confirm. I don't mind since Joyetech is pretty much the same but it is quite confusing sometimes.
My Final Verdict
Overall, I am satisfied with my Vaporesso Nebula mod. I can still live with swapping batteries whenever it is depleted. Or worst case scenario, I will attach a powerbank. LOL! But kidding aside, if you are a newbie or starting to switch into vaping or even if you are not a hard-core, looking for full-mech mod, or a simple vape user with mid-range budget then I can recommend Vaporesso Nebula. It is safe, smart, and friendly mod.
But if you are a chain vaper like me or you need more clouds and power – I guess this is not for you. Because, first, you will be limited to 100W or 600F temperature. Second, if indeed this mod is a battery hogger then you might only get disappointed once your battery dies while puffing.
This is my vape set stash as of the moment (#handcheck) and they all came from one of my favorite vape shops – Bessy Vape Shop. Vaporesso Nebula powered by Enook 26650, Geek Vape Medusa RDTA with dual coil Arsonist fused clapton, and juiced with Mr. Smookies. Like it or Hate it! I don't care! LOL!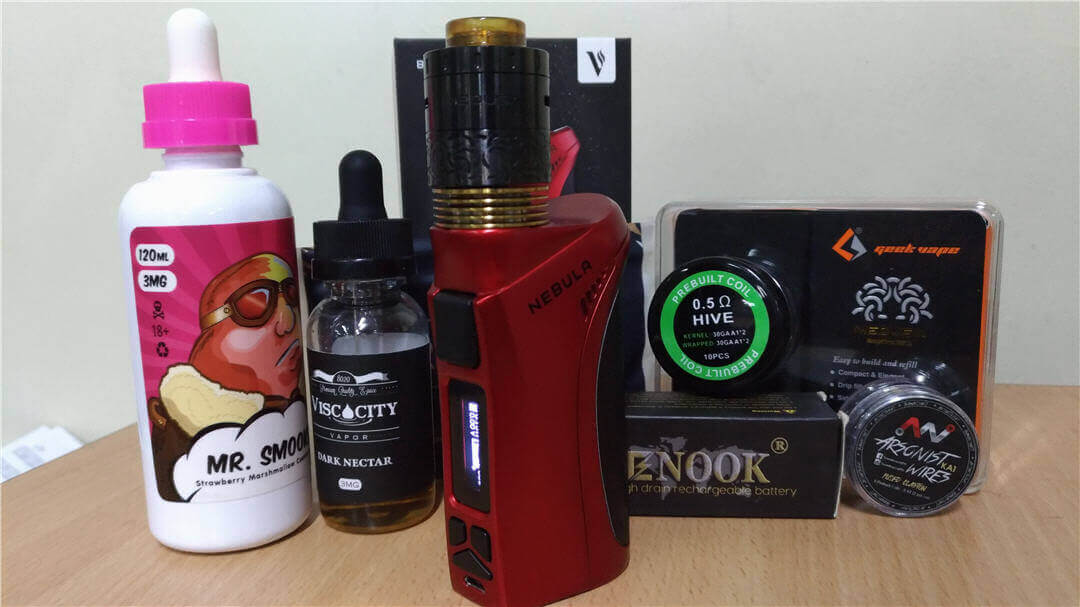 You also can check another review of Vaporesso Nebula mod from Mark.

NEBULA MOD BY VAPORESSO - Smart Wattage and Customizable Curves!
Vaporesso Nebula Mod Review (RED)
Packaging

Look and Feel

First Impression

Features

Performance

Battery Consumption

Price
Summary of Vaporesso Nebula Review
Vaporesso Nebula is one of the coolest variable mod I have ever seen and owned. It's not just the aesthetic design but also you will surely love how the OMNI board's performance! I am enjoying using the CCW mode control as of the moment. Read my review and feel free to leave your feedback.