A real-life flying car? It is no longer a pigment of your imagination or even a wishful thinking, it's for real! Recently, an advance engineering Slovakia-based company has unveiled their latest and first model of the AeroMobil real-life flying car at Top Marques Monaco supercar show. A car that can travel by land and will soon take over airspace! But it won't be ready until 2020 when the company starts to ships out these real-life flying car.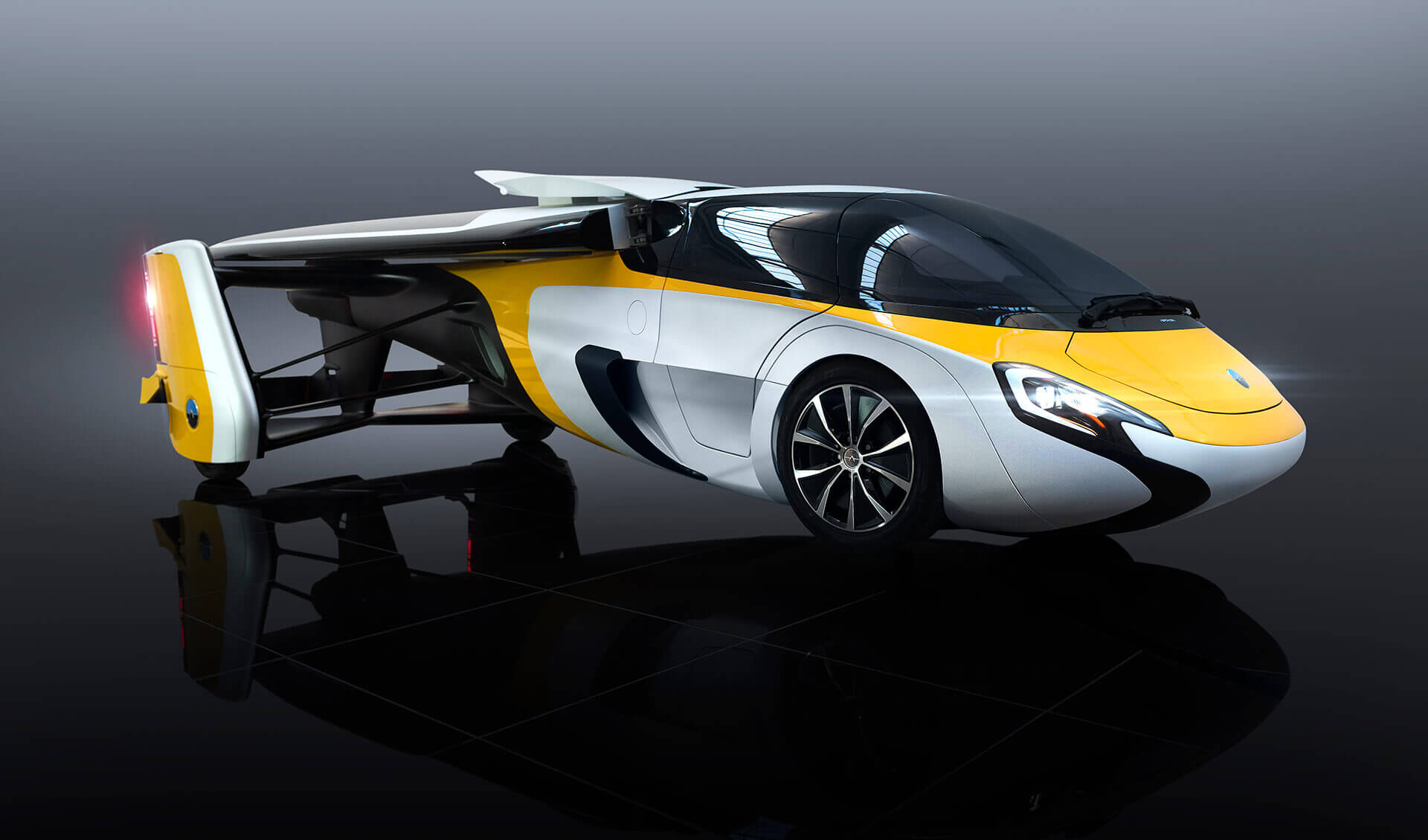 Transformation – Car to Real-Life Flying Car
I believe that we will see such real-life flying car in the future but I never imagined that it will be that soon! Imagine a world where you have now options to travel by either land and air (I wish also by water) with a hybrid car. Isn't that amazing? But yes, this Slovakia-based company AeroMobil has made a ground breaking breakthrough marking a new level in travelling and redefining of what is possible in trasportation. Bad traffic will no longer be a big problem for everyone especially if you are in a hurry.
A Quick View of What's Inside
If we talk about the design, AeroMobil's got a pretty decent looks.
If you look at the steering control wheel area, it looks optimized, simplified and everything looks close at hand. This will give easy access to the driver to operate while driving with no hassle. All the necessary buttons such as shift and launch buttons. Also, the navigation tools are already there in front.
That is just the steering wheel area, and if you shift your head to the left you will see this.
If you are into flying, that unique glass cockpit system is very much familiar with you. The display and information there is very much alike with the standard aviation system. It will provide you the necessary information while on land and as soon as it converts into flight mode.
If you are thinking about your safety (who doesn't?), the company ensures everyone that this real-life flying car has been designed to facilitate the incorporation of advanced safety technologies.It has a dual-stage airbags to protect you in the event you crash. And if you are airborne and about to crash, this vehicle has the very latest in vehicle recovery ballistic parachutes.
How Fast Can This Flying Car Go?
According to the report, with land driving, AeroMobil car has a driving range of 434miles with top speed of 100mph. And when it is airborne or in flight mode, AeroMobil can go to a top speed of 224mph and it can go up to 466 miles when flying at 75% speed. Not bad, and imagine how can this improve more in the future as this is just the first edition.
This AeroMobil Real-life Flying Car, Is It Available Now?
If you have $1.3 Million USD then surely you will have the chance to be one of the "soon" owners of AeroMobil Flying Car. Yes, it cost that much but I guess it is just right. And it is now ready for "pre-order" but your car will be shipped and delivered on 2020 – roughly 3 years from now.
The company further said:
The production of AeroMobil's first vehicle will be limited to a maximum of 500 units and is priced between 1,2m – 1,5m Euro depending on final customer specifications. The first 25 vehicles will be a Founders Edition and will contain series specific product content along with an expanded benefits package, details to be announced separately.
By the way, here is the official key facts about AeroMobil Flying Car:
Full transformation into flight mode in less than 3 minutes.
Automotive Range -700km (estimated using NEDC cycle)
Aerospace Max Cruise Range ~750 km @ 75 % (1 200 m, ISA)
Fuel Capacity 90 ltr (95 RON Gasoline)
Direct Drive variable pitch propeller (speed 2 400 rpm)
Automotive – Top speed 160 kph
Aerospace – Vs / Vc / VD – 112 / 259 / 360 km/h
MTOW Take Off Distance ground roll / 50 ft – 397 / 595 m
Max Take Off Weight – 960 kg (useable load 240 kg)
Here's the last posted video by AeroMobil showing their prototype:
AeroMobil 3.0 prototype in Hangar 7, Salzburg
And here's a video from Associated Press from Monaco Auto show:
Raw: Flying Car Unveiled at Monaco Auto Show
If I only have the money, I will surely get myself one BUT I should first learn how to drive AND fly.
Credits: AeroMobile Newsroom via Fossbytes