"Why would I need a backlink auditing SEO monitoring software? My keywords are ranking first in Google SERP (search engine results page), why should I care?". Probably this will be your first reaction and questions after seeing the title of this article. For all you know is you've done your homework – diligently. You've carefully done researching a good long-tail competitive keywords and is now ranking. But have you ever asked yourself, "until when your keywords rank first?". Face it, you're not the only one working hard to be on the top on any SERP.
"OK, I am now listening. But why do I need to monitor and do a backlink auditing? What can I gain from checking the backlinks pointing to my website? It's supposed to be good right?" – The answer for the last questions is YES and NO.
Alright, let's get it on now with the topic. I will share with you why should you care to get a backlink auditing monitoring software. Are you ready?
How Is Negative SEO Can Affect Your Keyword Ranking?
Are you regularly checking your website traffic? Probably and I am almost sure, you're using Google Analytics to track your traffic. Then have you noticed some changes lately? Is your specific page's traffic is dropping slowly, if not drastically? Then, it is probably you are being affected by what we call "negative SEO".
What is Negative SEO?
You have to know what is a negative SEO first. This is very important for you to know before it is too late.
As I've mentioned earlier, you are not the only one who wants to be on the top of SERP. Some of them will compete fairly. While some won't. The latter are those whom we should watch out for. They can be a threat to your hard work. They can do harm to your website and affect your rankings. And they can do this through negative SEO.
Negative SEO have one main purpose – to pull down your keywords ranking. One of the few examples of Negative SEO is to build unnatural links to your website. Or scrape the content(s) of your ranking post then reposting them in a spammy website. These backlink generating websites are considered spammy and toxic.
If you don't know yet, backlinks still plays a vital role in pushing your keywords upward in SERP. But imagine if most of your backlinks were detected by search engines coming from suspicious and spammy website. What do you think will happen then? Search engines like Google can penalize your website and pull your posts down. This will now then remove your post or website from ranking.
Are you getting now what we're trying to say? If yes, then we can continue.
How Can We Audit Our Backlinks?
There are ways you can monitor and audit your backlinks. You can do it manually but it will be tedious. Then there's another easy way by using a backlink auditing SEO monitoring software. Both ways can be done online.
Manually Audit Backlinks For Spammy Website.
Google is your friend. And the reason we said this is because it provides you tools to do the auditing. This can be done thru Google Webmasters Tools or also known as Google Search Console. But before we start, the assumption here is that your website is already registered in Search Console. And here's the high-level steps.
Log in to

Google Search Console

using your Google account;

Next, select your target website under

Property

;

On your left window under

Dashboard

, collapse

Search Traffic

;

Click on

Links to Your Site

;

On the main windows, click

More >>

under

Who links the most

;

Then, on that window you'll see all the domains linking to your website. You can check manually any suspicious website by going there.
Use A Backlink Auditing SEO Monitoring Software
Why not use a backlink auditing SEO monitoring software to make everything easier? One of the best SEO reporting software we used so far is SEMRush. With SEMRush Backlink Audit Tool, you can find out spammy website and disavow toxic backlinks. With this, you can avoid Google penalizing your website. You will just need to integrate your Google Search Console with SEMRush. Then with just a few clicks – VIOLA! You will discover how many backlinks out there are pointing to your website. SEMRush will let you know the level of toxicity of that website as well.
Here's an example of how does the SEMRush Audit Tool works. You will see that Bugthinking is configured here. As of writing this, we found another 3 potential spammy backlinks.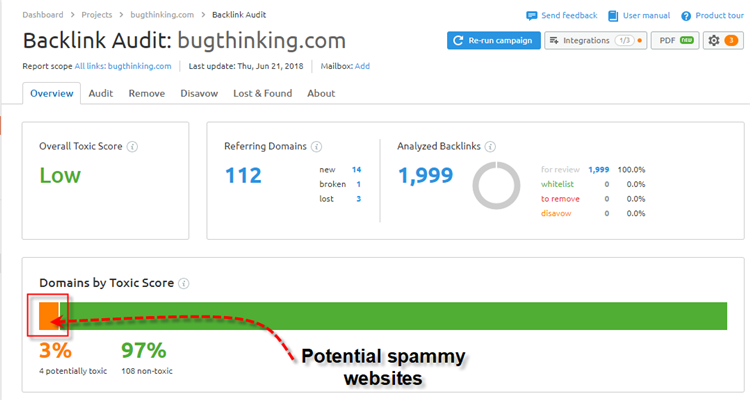 Once we click on the details, we'll see the Toxic level of the site linking to ours.
Although the Toxic Score is not high, it is still worth to check how our site is being linked. Let's take the first one and look what we've found out.
So, this domain is spammy and just scraping images and linking back to one of our posts about saving JW Player videos online.
With SEMRush Backlink Audit Tool, all we have to do is disavow these spammy websites. We just need to check these suspicious websites and do the appropriate actions.
We will now then export the compiled spammy website and submit it to Google Search Console Disavow Links.
How Is Disavowing Links Will Affect My Website?
After you submitted the domains or links to Google Search Console, all you need is to wait. It might take days before you see the effect. Your traffic may be affected in the next few days because of search engines like Google which can pull down your ranking in SERP. But note that these are just bots – so wait for things to stabilize. You may even notice a sudden or gradual drop of traffic. This is because the algorithm of search engines will first interpret that your website is losing reputation. That is the expected outcome when you disavow links.
However, in the long run you will see the beauty doing link audit. You will be sure that you're getting good backlinks from reputable websites. And not from those spammy websites with high toxicity score. Sooner than you thought, you're rank will get back in SERP.
Why Did I Get These Bad Backlinks From Spammy Websites?
You might be wondering why did you get these negative SEO in the first place. On the brighter side, feel proud of yourself. Why? Because you did a good job from the onset. Again, why? One of the reasons is because you managed to own a keyword or long-tail keyword. And this keyword is getting good leads and on top of SERP. This means that you're beating your competitors in the ranking game. Negative SEO, as we've mentioned is a black-hat SEO way to pull down your ranking. So, it is possible that your competitor or someone wants to rank on top of yours. Logically speaking, it does makes sense right?
There you have it folks, we hoped that what we've shared with you is helpful. And before we part, you can the other features SEMRush. I am sure, you will find it very interesting. Their pricing plans may look like too expensive, but with the features it can offer you – you'll never regret it.