Are you tired or annoyed seeing different ads being displayed in Facebook or Instagram? And you wanted to know how to get rid sponsored ads in Facebook app feeds? Or if totally removing the ads from my feeds to display even possible?  Or can I at least hide the ads? These are a couple of questions you might be wondering and looking for possibilities. Well, the straight answer is – "No. You cannot just stop ads from displaying from Facebook app. But you can control them." Running or serving ads in Facebook is their business models. This is mainly how Facebook earns money to keep their company running. This is why, most tech-geeks netizens, knows that Facebook is not just a social media platform – it is an advertising company.
Remember the most recent data issue controversy about Facebook? Watch the video below and you can skip to 03:00. You will get the confirmation from Mark Zuckerberg that Facebook runs ads.
These are the most confusing questions Congress asked Zuckerberg
Having said, as of writing this article there's no "one-click" way to opt out Facebook ads. Well, unless you are viewing Facebook on desktop then you can download some browser plugins or extensions which can block third-party ads.
How and Why Am Seeing Sponsored Ads in Facebook App Feeds
Before we proceed any further, let's do a quick facts how and why you see ads in your Facebook feeds.
Facebook does not know you mainly by all the information you put on your profile. If you believe that this is the only reason why and how Facebook serves you ads – then you're wrong. This is only the tip of the iceberg. This means that even you put the very least information about yourself on Facebook – you can't escape. You will still see ads displaying on your feeds.
What is a Cookie in Facebook?
Facebook uses what we technically call "cookies". Cookies are not food and not even close to something you can feed your computer. Cookies is a small file stored in your computer once you visit a website or when you open an application, like Facebook app. In this cookie file lies a small proportion of information about you. Cookies can send signal to the application or website to tailor what kind of additional information should it serve you. The server will look into your local desktop PC's or app's cookies or cookie history. The server checks and assumes your interests and then serve you the related ads.
How Facebook ads related to it?
In a high-level, Facebook ads does not appear in your feeds just because it wants to show you what it wants you to see. Facebook shows you relevant ads which does not depends only on your profile but also:
The kind of information you share on Facebook;
The activities you do on Facebook, i.e. liking a page, watching a video, or clicking an ad;
Places you checked in and posted on Facebook or Instagram;
It can also because an advertiser or third-party Facebook advertiser partners already have your email address or information.
These are the most common source how you are being served with Facebook ads. If you want to know what kind of information does Facebook get from you and how they use Cookies, then you can read their Privacy Policy.
How Facebook Ads works and how are you being targeted?
Here's an informative Youtube video that can quickly explain you how Facebook targets you. This means, the video will show what you need to know about Facebook ads and why it displays on your feeds.
All The Hidden Ways Facebook Ads Target You
Ways To Opt Out Sponsored Facebook Ads from Facebook Feeds
As we've mentioned, you may not be able to "totally" remove the ads in one-click. You will have to configure Facebook ad settings. And as time goes by you can tweak your Facebook feeds more to eventually remove all the ads (hopefully). In this part of the article, we will try to cover some ways how to get rid of sponsored ads in Facebook app feeds. And this is also applicable on your desktop version.
Configure Facebook Ads To Remove Irrelevant Ads from Displaying on Feeds
This is the first and best way to start removing ads from Facebook feeds. It may not remove all at first but it is a start. This procedure on how to get rid sponsored ads in Facebook app feeds will not ask you to install any additional app. It is just a matter of few clicks on your configuration.
For this example, we will be doing it on our desktop using Facebook. You can also do this on Facebook app from your smartphone or tablet.
1. Go to Facebook -> Settings

2. Scroll down and look for Ads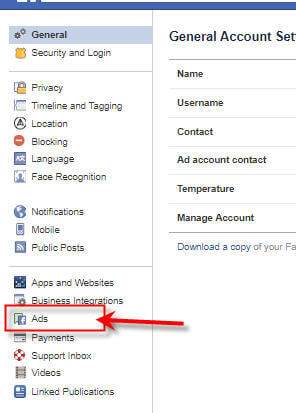 3. From here, you will see Your ad preferences
4. Scroll down and expand Ad settings. From here you can configure the following:
Ads based on data from partners – So what are these? Facebook serves ads to your feeds depending on the data or information you shared on Facebook's partners. Let's say, from my screenshot above you will see Hostgator ads being served. This is because BugThinking.com is hosted in HostGator and there had been recent activities with this site. So all you have to do is change the settings to Not allowed. And this setting means – "If you don't allow us to use this data for ads, we won't delete any data. You'll still see the same number of ads, but they'll be based on things you do on Facebook Company Products, or they may be from a specific business that you've shared your contact information with, if we've matched your profile to their customer list."
Ads based on your activity on Facebook Company Products that you see elsewhere – These are ads Facebook assumes relevant to you based on your activities. Opting this out or setting this to "No" will not mean you will no longer see ads. The only thing it can do is show ads depending on some of the information from your profile or activities.
Ads that include your social actions – Facebook ads is sometimes served based on the pages you Liked. And let's say that page you liked is running and ads. Your friends will or is more likely to see this ads on their feeds. So to minimize this ads behavior, then set it to "No".
When you go back to your Facebook feeds, you will still see a couple of ads being served. And you can go to the next step how you can manually hide the Facebook ads.
How To Hide Sponsored Facebook Ads from Feeds
You can hide sponsored Facebook app ads on your Facebook app or desktop. In Facebook desktop version, you will see the ads in the sidebar (right-side) and feeds. To hide them, do the following.
Hover your mouse (visible on Facebook app) to the top-right of the ads until you see the three-dots or slide menu.
Select Hide ad
Select the most close answer why you don't want the ads to display.
It is pretty tedious? I can feel you but this is what we can do for now to opt out Facebook ads from our feeds. As time goes by, if we keep doing this then probably soon we will see less and less ads on our Facebook feeds. This is because we've told Facebook that each ads they display to us is "irrelevant". 🙂
If you have other ways or know how to get rid sponsored ads in Facebook app feeds, please share it with us. We can add it on our Facebook tips.