Facebook Messenger app have this one most annoying feature that almost all users (well a large number of people I know) disliked. And that is the infamous Messenger Chat Heads. Yes folks, those intrusive circular thing (avatar or also known as Facebook profile picture) that keeps on popping on your screen whenever someone sends you a private message on Facebook. Although Facebook claims that the Messenger chat heads gives you that quick access to read or answer any messages, it wasn't appreciated by most.
It was mid-2014 when Facebook started to push everyone to download and install the standalone Facebook Messenger app. Facebook notified each users that they will soon separate the private chat feature – which they did. We all thought that's going to be the worst part, but no. Then comes the intrusive Messenger chat heads – really intrusive indeed!
Imagine yourself watching a movie on your iOS or Android device then someone sends you a private message on Facebook. BOOM! That Messenger chat heads will just pop-out from your screen ruining that moment.
That is why we would like to share with you this tip on how to disable Facebook Messenger chat heads from popping on your screen. We will show you how to turn off chat heads on Facebook Messenger. Unlike before, I had to root my Android device and use an app called Titanium Backup to freeze Facebook Messenger just to get away from that Messenger chat heads. While some other users found a way by disabling the notification from Application Manager. This time, you don't need any of these.
Steps to Disable Messenger Chat Heads on Android
The Facebook Messenger version we currently have on our Android is 169.0.0.27.7. I assume the steps below will still work for you. If not, feel free to comment below and we will find out for you.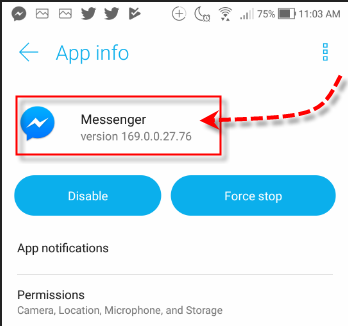 Now, going back to the steps on how to disable the Facebook Messenger chat heads.
Open your Facebook Messenger app.
On your Messenger's app, tap your avatar (your profile picture) on the top right side.
Once you are inside the "Me" window display, scroll down until you see Chat Heads.
Unlike the old version, you will now only have a toggle switch option. This will only enable or disable Facebook chat heads. So if you want to disable the Facebook Messenger chat heads, just toggle the switch like the image below.
Steps to Disable Messenger Chat Heads on Android For Older Versions
If you are still using the old Facebook Messenger app (older than Messenger 23.0.0.20.13 on Android), then I suggest you download or update your app first. Once you've done that, then you can proceed with the steps above. The procedure below are for old versions of Facebook Messenger only.
Open your Facebook Messenger app.
On the Messenger's app, tap that wrench icon from located at the top-right on your Android screen.
Then look for Chat heads, tap it.
The Chat heads option will display. Now you have the options to choose:

Turn on/off Chat heads
Hide when using apps that take up the full screen (enable/disable)
Start conversations from the notification tray (enable/disable)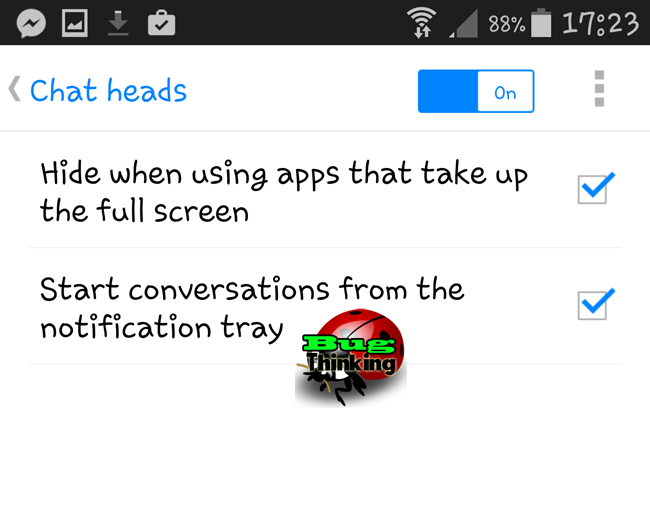 That's it! If you still want to enable Facebook Messenger Chat heads, you can turn it on. This time, Facebook app gives you more flexible options on how you want to show your Messenger chat heads. Another way you can use your Facebook Messenger is to use it as GPS navigational app when meeting someone.