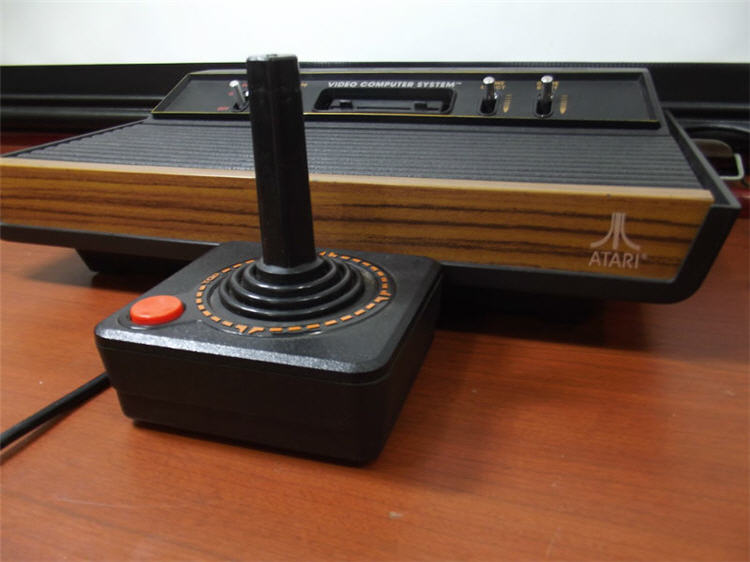 Gaming consoles have gone a long way from letting you play games like Pong or Pac-Man. When you think about consoles nowadays, you'll probably think of a Sony Playstation or an Xbox. But when it comes to retro gaming and the pioneer in the gaming industry, Atari was the company that first came out with the Paddle controller and a video game, in 1972. This marked the beginning of what would later become arcade games, multiplayer games, and consoles meant exclusively for games. So, here are a few things you should know about Atari consoles!
1. Atari was the pioneer in the video gaming industry
The first-ever Atari game was called Pong and was made by Atari themselves in 1972! This was the first successful video game that is considered a major contribution to the gaming industry. It was playable on the first home console ever made – the Magnavox Odyssey. Arcade cabinets weren't all that common back at that time, so a milk carton was used to collect the quarters' people would need to put into the arcade in order to play. Funnily enough, Atari never patented this game as their own, so rivals and competitors quickly came rushing in to create their own version of Pong. Later on, Magnavox sued Atari for copyright infringement and claimed that Atari stole the Pong game concept from them. Atari eventually settled and this was never brought out to a trial.
2. Some of today's rarest games were made for Atari 2600
Although you can find a lot of Atari 2600 ROMs online and play them without the actual console, if you wanted to go out and find the cartridges containing the actual games, you would be in for a long search. Remember, this was the time where games were still exclusively sold by mail order only. Cartridges that are rare and will get every gaming collector's attention include Red Sea Crossing, Air Raid and the fabled custom-made Birthday Mania game, that would have customers order it for someone as a birthday gift and developers adding that person's name into the game for a customized experience. All of these cartridges are expected to sell for at least 3,000$ and up. Passionate collectors would have no problem paying up to 13,000$ for a cartridge with the Birthday Mania game.
3. Atari was also responsible for making 'the worst game in the world'
Atari had their share of successful and popular games, but they also had a few flops. A good example of that would be their port of the Pac-Man game, which was widely successful but still critically maligned. Still, this minor flop was nothing compared to Atari's infamous E.T. the Extra-Terrestrial. That's right, Atari purchased the license to be able to make this game, based on Steven Spielberg's movie with the same title. However, the game turned out to be such a failure that Atari would later bury a large number of its unsold copies, along with other hardware and products in 1983, in a landfill near Alamogordo, New Mexico. These were later discovered and excavated only in 2014.
4. The Atari Jaguar is still considered one of the worst consoles
Gaming consoles and gadgets were really battling for a spotlight very intensely for a while. They were constantly trying to outdo each other by coming up with new, revolutionary devices that will sweep gamers off of their feet. Since 4K HD resolutions and FPS weren't even a thing back then, the biggest hype of the time were bits. So, Atari released the first-ever console for 64-bit games and while it was supposed to be glorious and all – it turned out to be a failure. The release was planned for 1993, but it was delayed to early 1994. Even with this setback, Atari was certain they'd beat the Super Nintendo and Sega Genesis consoles on specs alone. That never happened and thanks to a bunch of goofy commercials gamers didn't end up liking, it was a flop in sales.
5. Atari also released a pretty good console
While Atari 2600 was the most sold console ever made by Atari, had the most available games you could play and featured some classic Atari 2600 ROMs that people play even today, the real gem is the Atari 7800, which could stand up to NES in terms of graphics and performance, but what makes this the best console is the backward compatibility. If you got the 7800, you could play Atari 2600 games, as well as the ones released for 7800!
6. Some of Atari games are still being played today
Some of the most beloved Atari 2600 games made are still very popular, decades after they were developed and released. Pac-Man, Frogger, Space Invaders are just to name a few. Sure, they aren't as vast and detailed like some of the top-selling triples a franchise games, but they are still considered classics, gamers still enjoy.
7. Atari is coming up with a brand-new console, set to release by the end of 2019
Twenty-three years later, Atari announced that they would release Ataribox, the new Atari VCS. This one will be running the Linux OS and is considered to be an homage to Atari 2600, though by appearance only. What this console is going to offer and what's it going to be like has yet to be seen, but Atari might get a reboot and stand shoulder-to-shoulder with other consoles.